To say that Pakistan have come a long way from that defeat at Edgebaston would be an understatement of grave proportions. Pakistan have not come a long way. Pakistan have transformed. A team that set foot in England knowing it has nothing to lose, has altered the very dynamics of losing by pouncing back the way it did.
Let's be fairly honest here, the team that turned up against India on June 4th was the worst version of Pakistan there could possibly be. We lost and we lost miserably. Not only did we hit rock bottom, we took it as a challenge that there's no room for further misadventures.
But even amidst that letdown there was a thin thread of hope clenched around my heart - that we could only go up from there.
Pakistan have won the Champions Trophy 2017. Against all odds and quite literally all storms, Pakistan have come out victorious.
Has this sunk in yet?
It would be unfair to credit any one individual for this win, but a large chunk of the cake rightly goes to Sarfraz. His decisions may not have been too sensible in the first match against India, but in his defense, as a captain he was yet to absorb the magnitude of leading in an ICC tournament. He guided his team to the PSL final twice in two years, yet he seemed so off-color in that first game, it was worrisome.
That loss brought on many discouraging sentiments for us fans, along with the realization that this tournament might become a discourteous reenactment of the last Champions Trophy.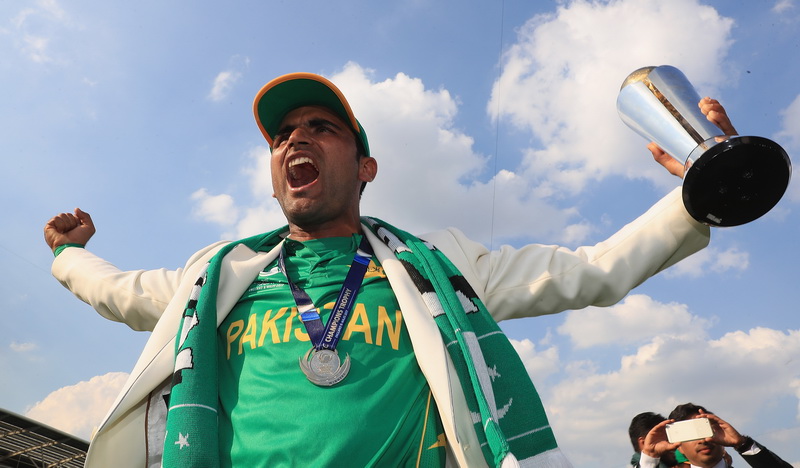 From there onwards we saw a monumental shift in attitude and the result was beautiful, fearless cricket. The same risky strategies suddenly seemed to work because of better execution. Bowling shifts here and field changes there, a pat on the back and a soundless clap - Sarfraz Ahmed was on top of things. All eyes were on this modestly sized man in immodestly sized gloves, crouched behind the stumps with his breath fastened to the ball. Under him, Pakistan seemed to have transformed in a span of 15 days.
Fakhar Zaman is the kind of opener Pakistanis have long only referred to in past tense. Pakistan entered the Champions Trophy with many predicaments to worry about but none were as grim as its upper batting order. Fakhar, however, so gracefully lay claim to the opening throne, it was a fairytale debut of sorts. Two swift fifties and a blazing ton to sign-out in style, Fakhar was just the explosive, driven batsman that Pakistan needed. That lofty six off Jadeja in the final game had 'I am here to stay' written all over it. Virat Kohli fittingly described him as unorthodox, for when this Mardan marvel got going, every hit was a brand-new move.
The cherry on Pakistan's cake however, was Hassan Ali. Pardon my conventional vocabulary; a gulab-jamun-on-top would encapsulate his performance more suitably. In only his first major tournament, this powerhouse is going home with the most number of wickets, the player of the tournament title and victims who go by the names of Eoin Morgan and MS Dhoni, among others. Hassan Ali didn't care for how mighty his opponent was, whether the ball was old or new, whether there was bounce, whether there were enough runs to guard. He knew only one thing - wickets. His eyes were on the prize, and his prize was the wicket. Yet with each prize secured, Hassan Ali looked hungry for more. His energy on the field was contagious, and his celebrations uplifted those watching the game from miles away.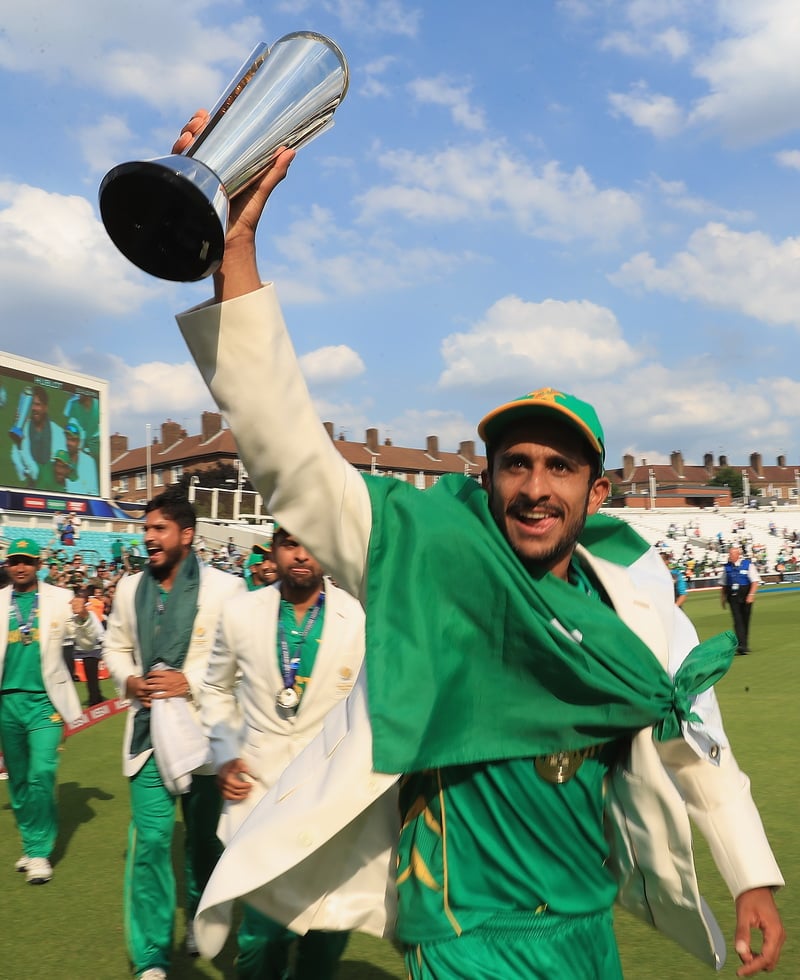 Then of course there was Amir, who has always had a connection with England. There was Azhar, who once more allowed his bat to answer many. There was Shadab, who showed impeccable belief for an 18 year-old. There was Imad, who played promising cricket. There was Hafeez, whose knock in the final resembled nothing he had done before. And there was Pakistan, who rose from the ashes like an unstoppable phoenix.
It can't be expressed what this trophy means for Pakistan. We were a side written off by all prior to the tournament. And rightly so; it would have been foolish to expect much from the lowest ranked side on the verge of a world-cup qualifier. More so, a half-baked side led by an unseasoned captain presented a weak case against hardened units like South Africa, India and England.
It would not be wrong to assert that Pakistan, a nation longing for home-cricket and a world trophy for 8 years, deserved this title the most. Surely they had match-winners in the side who played unbelievable cricket. Surely, for the first time in many months they played with their minds and they played smartly. But Pakistan's driving force, the factor that really took them home, was their insatiable hunger to be a better team.
They fought back like cornered tigers, this time standing true to the title that has clung onto them since 1992. This cornered side truly embodied what it is fondly known for - talent, hope and breathtaking unpredictability.
---
Disclaimer: The views and opinions expressed in blogs are those of the authors and do not necessarily reflect the official policy or position of the Pakistan Cricket Board (PCB)