National Cricket Academy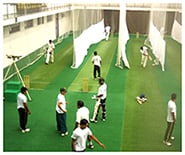 The National Cricket Academy holds clinics and coaching programs at ideal venues that work best to facilitate and stretch the learning curve of even the most mature and seasoned cricketers. As a major patron to world-class cricket, Pakistan also boasts some of the finest major cricket venues that the Academy utilises for its coaching and training purposes. Students can look forward to honing their skills in none other than the highly revered stadiums and cricket pitches where World Cup tournaments have been held. Uniquely innovative and the first of their kind "Indoor School facilities" further aid in the training process and are a permanent feature of the program. Some of the venues where students can expect to train while in Pakistan include:
Gaddafi Stadium Lahore
National Stadium Karachi
This unique feature for enhancing players' techniques provides the players round the clock practice with latest facilities. This spacious indoor school has five super grass (synthetic) pitches of two different natures. The school is also equipped with bowling machines of international standards, which can narrow down the gaps in the player(s) through repeated trials.

Our indoor school will enable us to change the way the game is taught and played in the future. It will provide the essential year-round facilities and scientific capability to undertake in-depth analysis of our young cricketers' techniques that are important for developing good skills and preventing injury.

This five lane indoor cricket school will further expand the opportunities for players, coaches and even umpires to improve their game. In the hands of a good coach, it is the most effective of tools for batting practice and improvement. Just having the facility to watch a batsman playing against the same ball time and time again, gives the coach the opportunity to fine tune technique and rapidly eliminate flaws and weaknesses against a 'reference' ball.
The benefits of using a Bowling Machine are evident to the professional players who use them as part of their regular practice and training schedules. It is where the standards of net bowling are less consistent; the bowling machine comes into its own. For the frustrated batsman trying to improve a particular facet of his or her game, there is no better facility. The machine will do what almost no other net bowler can or wants to do.
Outdoor practice has its own advantages and importance for the development of technical and physical skills. This facility is extensively used to fine tune even the most advanced players' skill level. For this purpose, five pitches of international standards have been laid in the area, which can also be used for fielding and physical exercises.
It is fully-equipped with most modern and latest machines to facilitate all-season physical and cardio strength training, which are essential to the demanding stamina required for the program.
Swimming remains an important exercise for stamina building, endurance and overall fitness. Swimming is also a way to recover from injuries, or just to relax. It revs up your whole body without overstraining any particular organ.