I had always assumed over the last six years that cricket would return to Pakistan when the country was free from all violence. It was naive and Utopian, but perhaps that was a measure of what the attacks on the Sri Lankan cricket team and ICC officials in 2009 had come to mean.
Until that moment, I was among several people (perhaps even a majority of Pakistan fans) who thought cricket would never be attacked. Looking back, it seems a remarkably aloof sentiment, given that no sacred place was spared violence even then. But nevertheless, that feeling existed, or at least was realised most acutely when it was finally lost.
If it wasn't for that feeling that cricket was safe, perhaps the governing authorities would have had far stricter measures in place.
Today, as Zimbabwe's team moves around with the security detail of a head of state, the measures that were missing in 2009 are firmly in place. Pakistan, and particularly Lahore, are facing less violence than back then. But things aren't quite normal either.
The return of cricket is not meant to mark the beginning of peace. But perhaps it can mark the beginning of an end. Perhaps it can become a totem, a symbol of hope or merely a reminder that we still exist.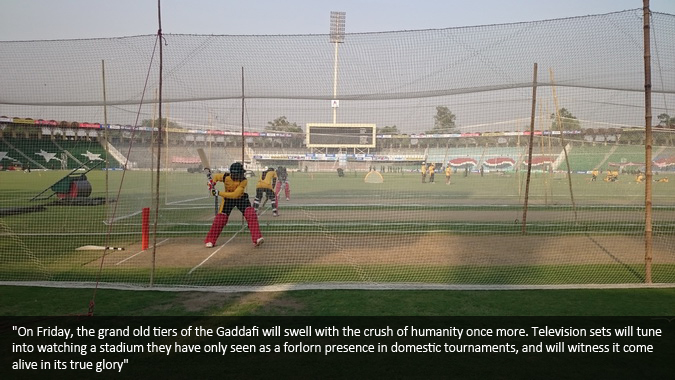 Because even though cricket went away, it never died. It was kept alive in both the prayers and the curses of the fans, because both are signs of caring. It was kept alive by young players seeking out the dream it holds as one of the great levellers of Pakistani society. It was kept alive by those groundsmen and coaches and masseurs and peons and guards who kept watch over stadia and ground that existed to gather dust.
The return of cricket is no one definitive thing. It is both desperate and romantic; foolhardy and courageous; a huge risk and a cautious gamble. It is a reminder of all that we have lost in the freedoms that our bodies and our minds could enjoy. It is a reminder that what was once so easily accessible now needs to be protected like a state secret.
The only thing that is left now is the cricket itself. On Friday, the grand old tiers of the Gaddafi will swell with the crush of humanity once more. The baked air that will hang heavy above the crowd will begin to crackle from the electricity those people will generate. Television sets will tune into watching a stadium they have only seen as a forlorn presence in domestic tournaments, and will witness it come alive in its true glory.
Will we turn to the cricket as an escape? Will we use it to remind ourselves of all we have lost? Will we see it again the way we used to? No matter what we choose, the exile will be over. Cricket would have finally returned home.
Ahmer Naqvi is a writer and journalist. He writes on cricket for ESPNCricinfo and The Cricket Monthly. He also speaks on cricket on the TV show Journoeyes as well as the web show
Pace is Pace Yaar
Twitter: @karachikhatmal
---
Disclaimer: The views and opinions expressed in blogs are those of the authors and do not necessarily reflect the official policy or position of the Pakistan Cricket Board (PCB)