A whole generation of Pakistanis has been brought up with one truth above all others – the Aussies are to be feared. They are a collection of overpowering automatons brought together to expose the holes in Pakistan's armour; like a team built in a mad scientist's lab, out to show the Pakistanis that occasional moments of magic were never a match for sustained brilliance. Every counter-attack by Pakistan, from the mighty 90s side's last hurrah at Hobart to Shoaib Akhtar's bull-in-a-china shop impression in Colombo, was to be crushed like a tyrant would the dissidents. Every time a Pakistani player were to mention Australia (their team, as well as their domestic system), it was to be with a mixture of dread and reverence.

It wasn't always thus though. The history of Pakistan-Australia cricket can roughly be divided into three eras. The first, from Pakistan's debut till the 1970s, was one of ignorance. Pakistan were too small a fish for the Aussies to take note of. While the English still played Pakistan, perhaps from a genuine desire to see cricket develop in the country (or white man's burden, take your pick), the Australians shunned Pakistan as if they were a leper. By the time Pakistan toured Australia in 1972/73, they had played only six Tests against them, compared to the twenty-one they had played against England. With the exception of South Africa (for obvious political reasons), no team did Pakistan play less over their first two decades – despite the fact that Pakistan didn't play India for seventeen years in the 60s and 70s (again, for obvious political reasons).

In the early 70s though Pakistan regained the stability and respectability they had lost since Kardar's retirement. They drew a series in England, and their tour to Australia (only their second in over twenty years) brought them admiration too. Though they lost the series three-nil, they had played well enough to have taken a first innings lead in two of the three Tests, before throwing the initiative away – a feeling that is familiar to the modern Pakistan fan. That series, combined with Pakistan's improving performances meant that suddenly the Australians were willing to play Pakistan. History has shown that the Australian cricket team has always been keen to play the best in the world, to measure themselves against them. You either need to be really good, or really profitable (as was the case with England for years), to be considered worthy to play by the Australians. Thus it is no surprise that the greatest teams in Pakistan's history played Australia as often as they did.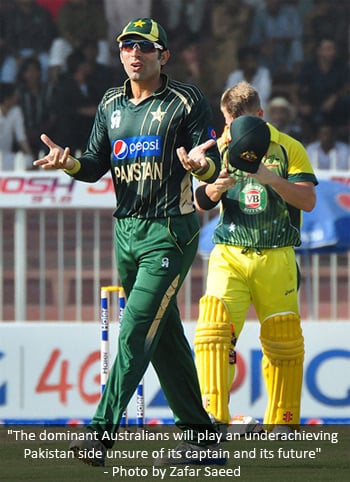 From 1976/77 till the turn of the century, Pakistan competed with Australia to be the chief challenger to the West Indies' throne. During this time the two teams played twelve series against each other with two drawn series in Australia and nine of the other ten going to the hosts (Australia winning five, Pakistan winning four and losing one of their five series at home). With twelve series in under twenty-four years, it was obvious that Australia had begun to respect Pakistan. The popularity of Pakistan within Australian circles was further reinforced by Pakistan's exploits in the ODI tri-nation series in Australia. Pakistan competed in seven of the twenty-one tri-nations tournament in Australia during this time; only the West Indies (ten appearances) were invited more often than Pakistan – an illustration of Pakistan's status at the time. This was, in many ways, a continuation of the Kerry Packer World Series where the World XI (competing with XIs from Australia and the West Indies) was represented by as many as eight Pakistanis – no other country contributed as many. And although neither Pakistan, nor the World XI, was as successful as they should have been (Pakistan won only one of the seven tri-nations), what they gained from Australia is not to be underestimated. The rise of the Pakistan team in the 1970s is often attributed to the experience so many Pakistanis gained from playing county cricket; less commented on is the fact that Pakistan, particularly Imran Khan, would not have achieved the levels that they did if it weren't for the Packer series and the constant stream of high quality ODI contests in Australia in the 1980s. Could Pakistan have become one of the best ODI sides of the 1980s and 1990s without these tours to Australia? Could they have really won the World Cup in 1992 if they hadn't toured the country twice in the three years before that, and were as familiar with Australian conditions as they were? While it is justified for Pakistanis to complain of the treatment that Australia dished out in the first couple of decades (and in more recent years), it would be unfair to suggest that Australia has not contributed to Pakistan cricket, however inadvertent it might have been.
"History has shown that the Australian cricket team has always been keen to play the best in the world, to measure themselves against them. You either need to be really good, or really profitable to be considered worthy to play by the Australians"
And finally there's the third era – the post-9/11 purgatory that Pakistan are still living in. Australia is the only international team that has not toured Pakistan during this time; and also were the most vociferous opponents of cricket in Pakistan until the attacks of 2009. Perhaps Pakistan could have made a better case of appealing to Australia (probably by being better than they were) but the two teams now exist in parallel worlds. The last time Pakistan won a series against Australia (in 1994/95), it was Salim Malik against Mark Taylor on the skipper's podium. Since then Australia have had three permanent captains (Waugh, Ponting and Clarke); Pakistan have had a slight few more than three. Does stability lead to success or is it a by-product of it? Australia can argue from both sides, Pakistan neither.
Yet twenty years on from Inzamam's heroics, this was the series Pakistan were supposed to fight back in.

Twelve months ago it seemed as if the two teams were finally in a place where Pakistan could be fancied. Australia were winless for nine Tests having failed miserably on their tours to India and England. Pakistan, meanwhile, had lost only two of their ten Test series under Misbah, finishing with a drawn series against the all-conquering South Africans making it four unbeaten series in four since their return to the UAE in 2010. Since then, though, things haven't exactly gone to plan for Misbah's men. Australia have once again become AUSTRALIA, the land of hairy giants and flashing blades. Series wins against England and South Africa took them back to the top of the Test Rankings and although they have since dropped down to second, their last trip to Asia and the mauling in India seems like a generation away now. Pakistan, meanwhile, continued their unbeaten streak in the Emirates, but needed a miraculous chase to achieve that. They have since been embarrassed in Sri Lanka by Rangana Herath, and even their familiarity with the conditions here seems more like the clutching of a straw rather than the possible evidence of a competitive series. They have lost their greatest weapon in the desert – Saeed Ajmal, who had taken 67 wickets at 26 in his adopted home – and seem to have lost understated overachievement that has marked most of Misbah-ul-Haq's reign.

Thus the dominant Australians will play an underachieving Pakistan side unsure of its captain and its future. Through three eras of varying competitiveness, it has always been this way.

This needs to change. Pakistan desperately need a team leader who inspires confidence and a Board that is managed professionally and efficiently.

Hassan Cheema is a sports journalist, writer and commentator, and co-hosts the online cricket show
Pace is Pace Yaar
Twitter: @mediagag
---
Disclaimer: The views and opinions expressed in blogs are those of the authors and do not necessarily reflect the official policy or position of the Pakistan Cricket Board (PCB)