It is the end of a new beginning, the first edition of the HBL Pakistan Super League (PSL) wrapped up after an excursion of nearly three exhilarating weeks. HBL PSL 2016 officially started earlier last month with a lot of expectations and skepticism. And of course, there was some criticism as well, amid all that HBL PSL has done glowing well especially for the first season of a cricket league.
The HBL Pakistan Super League 2016 was staged in UAE due to security concerns in Pakistan, but that still did not turn real cricket fans off, as the tournament completely ruled prime time viewership on TV in Pakistan. Over 55% of Pakistani television, viewership preferred watching HBL PSL rather than watching TV dramas or talk shows. That clearly speaks volumes about the success of the league and designates that quality cricket is still the prevalent entertainment for Pakistanis.
The HBL Pakistan Super League has not just been a cricket tournament that has been much more than that. If you still think why the HBL PSL is the next big thing in Pakistani cricket scene then you must discern the kind of fever HBL PSL has spread in merely four weeks' time.
The HBL PSL has taken over our music scene, as many top singers came up with team anthems; almost every team has at least two or three anthems extra besides having one official anthem of the team. Every top TV channel took pride in being associated with the event and the franchises.
Our sense of humor and banter has one more topic now – yes, the HBL PSL. Lahore vs Karachi vs Islamabad has taken an all-new turn because of the HBL PSL. Every nerve testing game echoed on our social media streams, which is not an ordinary thing for a nation divided over various topics and issues, but united again to enjoy quality cricket.
One more thing, merchandise – every franchise has a loyal following and that opens the sooq for merchandise manufacturers, sellers, and distributors. Hence, the newly born cricket league is now part of our lifestyle, and that too in just one month.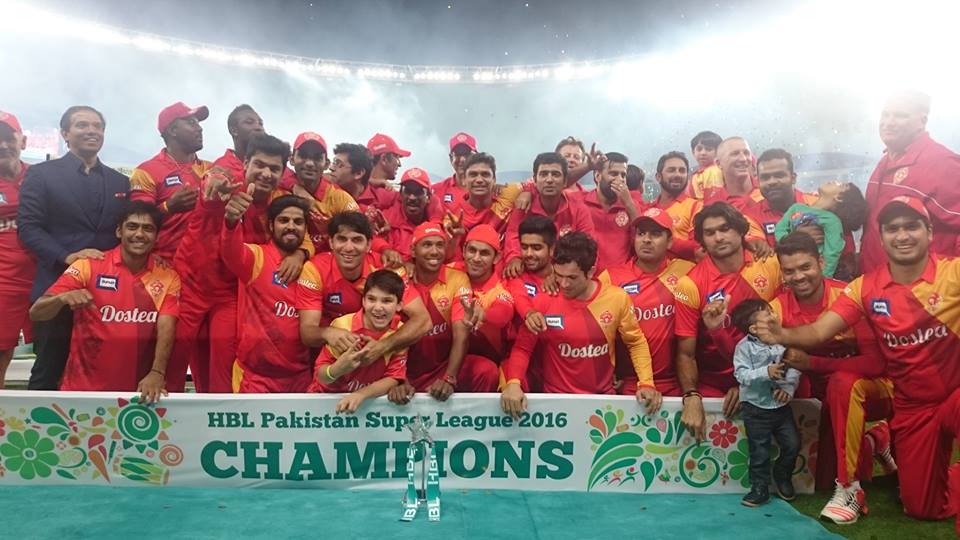 Another major attraction of the HBL Pakistan Super League is that many new local heroes emerged that displayed their capacity in the pursuit of outshining the influence of their international teammates and foes. How many of us were aware of names like the blaster, Bismillah Khan, the super Asghar, and Shane 'Nawaz' Warne? We gave these names on social media to the players who became instant hits out of being utterly anonymous to the masses before the HBL PSL. This is not it, the list of local performers is quite long and objectively speaking, local lads truly gave antagonism to the show of international stars.
Cricket is a team game, where individual performances do matter but it is infrequent that an individual performance can beat a whole team. The HBL PSL reminds us the same lesson of cricket as teams with joint effort and disciplined game of cricket kept stirring higher in the league table irrespective of having big names attached to it or not.
None of us expected something gigantic from the Quetta Gladiators, yet, the franchise of Pakistan's often-neglected provincial capital city redefined the meaning of dark horse or underdog from day one.
Islamabad is not as famous for cricket (in fact it is not famous for anything apart from being the host city of power corridors and Faisal Mosque), as its twin city Rawalpindi. Nevertheless, the very same Islamabad met Quetta Gladiators in the final of the first season. Thanks to HBL PSL, Islamabad perhaps for the first time is 'cricket cool' and Quetta is in mainstream media again and of course this time for a good reason.
Looking back at the last month seems like a long journey filled with countless memorable moments. The very firstover of the HBL PSL ended up being a maiden. The master of T20 cricket, Chris Gayle getting a golden duck. Asghar picking up two unbelievable catches. Asghar dismissing Watson on arguably the best ball of 2016 and Nawaz bowling a replay of that ball. Aizaz Cheema's last over against Peshawar Zalmi. The confrontation between Wahab Riaz and Ahmed Shahzad. The jubilant Sir Vivian Richards. Umer Akmal scoring four back-to-back half centuries. Sharjeel Khan hitting the first ever ton of the league. Ravi Bopara single handedly beating the Lahore Qalandars. Shahid Afridi picking up a full fiver against Quetta. Nabi playing the 'Mr Cool' in that final over against the Lahore Qalandars.The Lahore Qalandars scoring 200 runs and Quetta Gladiators gunning it down. Mohammad Sami proving that no matter what, 'pace is pace yaar'. That hat-trick of Mohammad Amir. The return of Wahab vs Watson. Those epic tweets of Lahore fans and Karachi fans taking jibes at one another. Lahore and Karachi joining hands to mock Islamabadis about the habit of the capital city sleeping early. And of course, the entry of the Lahore Qalandars when whole team including the owner were executing dhamaal on the team anthem –"Qalandar Lahore Qalandars". This has been a true roller coaster ride.
Rai M Azlan is Assistant Manager New Media, PCB.


---
Disclaimer: The views and opinions expressed in blogs are those of the authors and do not necessarily reflect the official policy or position of the Pakistan Cricket Board (PCB)