It took 2,000 days, it took months of planning from the PCB and the security officials, it took a lot of money and resources, it took a city and a country desperate for international cricket.
But what it really took was 39 overs, and then finally cricket returned to Pakistan.
For 39 overs the crowd was anything but what you would expect at a sporting contest. They weren't partisan, they were rarely angry; in fact a sense of elation seemed to pervade through the twenty odd thousand at the Gaddafi. For 39 overs it was just a celebration, a mela on steroids. It was more the opening ceremony of an Olympics than a cricket match. It was at once a formal occasion – somewhere you had to keep your decorum, respect the sport and not be as partial as Pakistani fans generally tend to be – and yet a purely Pakistani one too: where the only goal is to lose your mind as often and as strongly as possible.
And then the 40th over. A match that had seemed all but done was suddenly alive again – appropriately so considering the occasion one could say – and Pakistan were on the verge of losing another tight contest. And then, cricket truly returned – the humdrum of bottles being banged on plastic seats (that most quintessential of Pakistani practices), fingernails finally being chewed and a collective desire was suddenly evoked to push Pakistan across the line. Again, much as was in the script, Malik lost his wicket and out came Afridi, the personification of another Pakistan, bat in his hand, as he has so often done, with the hopes of millions on his shoulders. He succeeded, because of course he did. Even Afridi's record of failures over successes couldn't stop this; one stroke, and once again the madness was contagious. He succeeded because it was meant to be.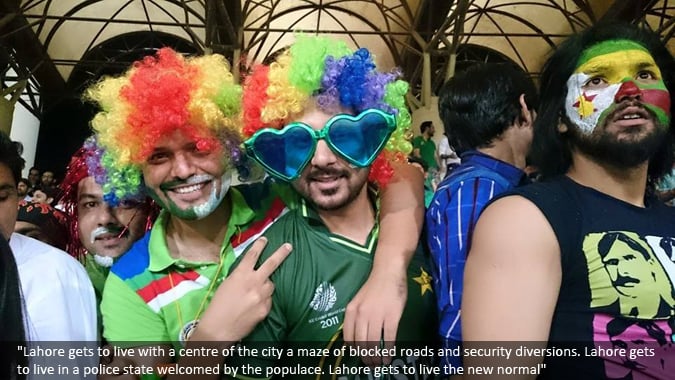 By the second T20I the crowd was more partisan, certainly more so than the one Elton Chigumbura had described as the most appreciative away crowd he had ever played in front of, after the first T20I. By the time Bilawal Bhatti strode out to bat, Gaddafi's volume had been reduced to a level that wasn't even thought of in the first T20I. For the first match there was just elation, a sense of disbelief, that something positive could actually happen if it was pursued. By the second, some (although certainly not even the majority) of that sense of responsibility had given way to partisanship, almost bordering on normalcy. A sense of normalcy that has been mostly absent in Pakistan for a decade now.
Of course it isn't nearly what Pakistani crowds have generally done; there is a sense, in everyone you talk to, of owing Zimbabwe after they agreed to tour – perhaps best illustrated by whole stands chanting "Zimbabwe, Zimbabwe" in an attempt to repay a favour they can never repay. Long gone are the days when four Indian cricketers could go to a public place when touring Pakistan. In fact, long gone are the days any foreign cricketers come to Pakistan without trepidation.
And the way the tour happened was quintessentially Pakistani too – there was the long wait, a hesitant yes, the reports of a refusal, and finally the affirmative that everyone had been waiting for. Both the timeline and how many negotiations it required evoked the custom of arranged marriages. What followed was nothing short of surreal, a media scrum at the airport usually reserved for trophy winning teams, and proclamations from the security forces of the lack of hesitation they would require to lay down their lives for their guests. It was both deeply moving, and deeply disturbing. As too many things in this country have recently been.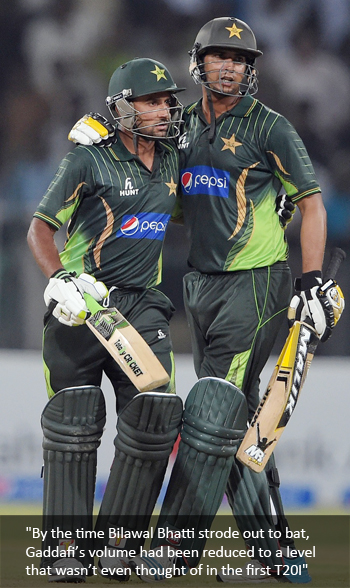 In the end though, one returns to what a Red Star Belgrade fan said prior to the 1991 European Cup final. With the Balkan War beginning to affect all that they had known, one supporter believed that a win in the final would permit them "to live normally for another three days." That is what this tour has allowed Lahore to do – to actually, collectively, think of living normally for a fortnight; to go back to an earlier time, when the biggest headache you had was how to get access to tickets for the cricket; to go back to a simpler time.
Lahore gets to live with a centre of the city a maze of blocked roads and security diversions. Lahore gets to live in a police state welcomed by the populace. Lahore gets to live the new normal. But perhaps with this series, Lahore gets to live.
Hassan Cheema is a freelance sports journalist. He has worked as a commentator and analyst for PTV Sports, and co-hosts the online cricket show Pace is Pace Yaar
Twitter: @mediagag
---
Disclaimer: The views and opinions expressed in blogs are those of the authors and do not necessarily reflect the official policy or position of the Pakistan Cricket Board (PCB)