My dear Indian friends,
It is with great pleasure and no uncertain honour that I present to you this commemorative shawl, a crate of mangoes and our list of counter-offers for the great and humble nation of India with regards to tomorrow's match.
As lovers of the game, we are most happy for fate and skill to decide the match. However, it has come to our attention that there are several compelling reasons for your team to lose tomorrow's encounter, as doing so will bring great benefit and glory to your country. As your long-time friendly neighbours, we feel it is our duty to enlighten you with these reasons.
We assure you that once you have a chance to go through our proposals, you will be convinced of their undoubted merit. Indeed, all of your government officials who are wearing clothes with their names on it would rush to tell Dhoni's boys to give up for the clash in Adelaide.
So without further ado…
1. Maintain losing streak
There is such a glorious symmetry to India's tour so far, where in over three months your team has picked up a continuous run of 'Ls' in the Win/Loss column. Given that you are the country that claims to have invented mathematics, we are sure that it would give your citizens great joy to continue this pleasing and perfect progression, and a pointless victory in the opening match would just lay all the hard work of the previous 12 weeks to ruin.
2. Promote IPL
We all know that any time India loses, the world blames it on IPL, and Dhoni asks the world not to get jealous. Well, what else would provoke an avalanche of angst about the IPL than a loss to a team with no IPL players? All your IPL mega-stars would get extremely indignant and commit themselves even more enthusiastically to the six-week carnival, meaning that there would be even more gratuitous dancing by Shah Rukh Khan in dressing room balconies across India. And we all know that there's nothing better than that.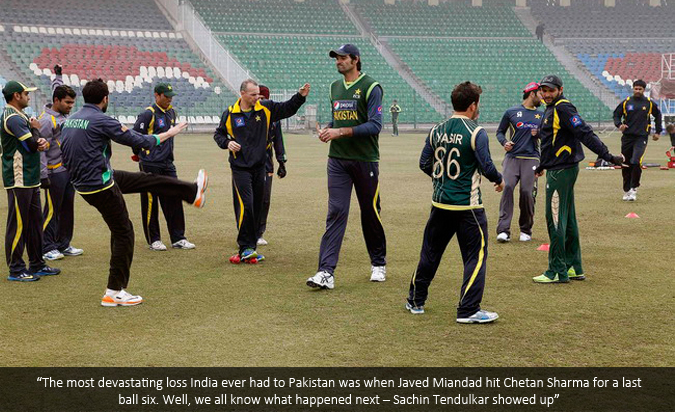 3. New leagues for Star
In a country of one billion people (MashaÁllah), it is a bit unfair to have all the attention for just one sport. Indeed, we have appreciated the effort of your local broadcasters to introduce a phalanx of glitzy leagues in other sports, hoping to expand their popularity across your vast land. Losing to Pakistan would be just the boost these fledgling sports need, as millions of disgruntled Indians would turn to them instead of cricket. Imagine how spectacular the Badminton and Kabbadi Premier Leagues would get then. You might even get the chance to develop newer leagues. We hear that Sourav Ganguly and Abhishek Bachchan have both expressed interest in buying franchises for the upcoming Lemon-and-Spoon Premier League, while Vijay Mallya has already purchased a stadium to host his team in the upcoming Chapati Rolling Premier League. What better way to promote these Indian sports than a catastrophic loss to the cricketing arch-rivals? When you are sweeping the medals at the Star Sports Olympikz, you will be thanking us.
4. Do it for Sachin!
The most devastating loss India ever had to Pakistan was when Javed Miandad hit Chetan Sharma for a last ball six. Well, we all know what happened next – Sachin Tendulkar showed up, and that kept all of you content for the next 25 years. Well, since it's clearly obvious that you need an impetus of such magnitude to bring out a talent like Tendulkar, we see no better opportunity to have one than a loss to our boys tomorrow. Your team might suffer from a decade-long inferiority complex, but against that you have a return for someone like Sachinnnnnn-Sachin!
5. Invest in Indian sciences to warp time to make Indians bowl faster
Finally, it has come to our attention that India has a proud record as a citadel of scientific breakthroughs. Indeed, we were recently told that plastic surgeries were being performed several millennia ago, and we all heard of your recent trip to Mars. Given that this is such a clear talent for your people, it would be to the benefit of all humanity in Indian science is further invested in. A disastrous World Cup might lead to such a situation, as you turn your best minds towards finding a solution to your cricketing woes. We have no doubt that the only way for Indian bowlers to ever bowl fast is if Indian scientists are able to manipulate the laws of physics and bend time and space.
Ahmer Naqvi is a journalist. He writes for ESPNCricinfo and appears on the online Pakistani cricket show
Pace is Pace Yaar
Twitter: @karachikhatmal
---
Disclaimer: The views and opinions expressed in blogs are those of the authors and do not necessarily reflect the official policy or position of the Pakistan Cricket Board (PCB)