It's been especially tough being a Pakistani cricket fan these past couple of weeks. In fact, it's been gruelling, disappointing and downright degrading. All the ridicule from the media – on occasion well founded and at times completely unjustified – distorted and twisted, has done nothing but add fuel to the fire; a fire that burns with a sting felt across the nation as it passes through tragic events and times of adversity. We Pakistanis are passionate people and our love affair with cricket knows no bounds – in fact even borders on the hinges of irrationality. Blood pressures and stress levels soar when the team loses and even when the team does win they offer no respite to the faint-hearted. We look to cricket for hope and joy and, in our state of hysteria, tend to forget the hurdles overcome by Pakistan cricket in recent history.
To list but a few unpleasant memories, we are perhaps the only cricketing nation that has seen the sad demise of a coach, lost three world-class cricketers to spot-fixing, been denied international cricket at home, lost the best bowler in the world and the second best all-rounder in the world to an illegal bowling action, and seen more changes in the management than in the government (which says a lot when it comes to Pakistan).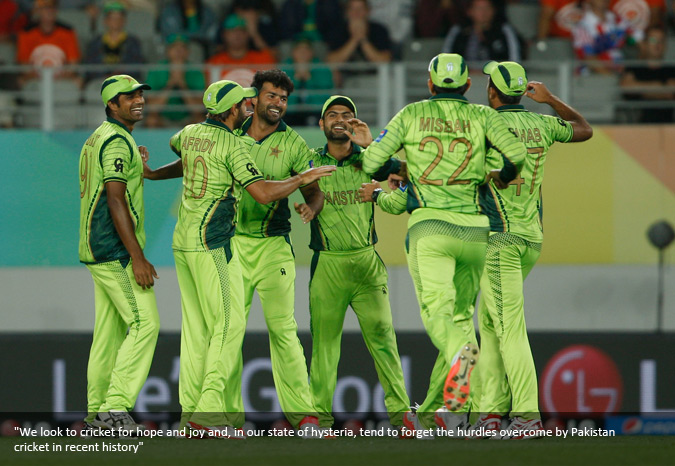 Such is the cruel nature of the game that one team must triumph and the other lose. This World Cup West Indies lost its first match to Ireland and then suffered a humiliating defeat of 250 runs at the hands of South Africa. I have not, however, seen Chris Gayle's dance steps ridiculed or Holder's height mocked over social media. When the team is winning it is easy to hum along as very channel plays the song: "Tum Jeeto Ya Haaro, Suno, Humein Tum Se Pyaar Hai," but it is a Herculean task to live up to the latter part of the lyric when the team is losing. That takes character – character we undoubtedly possess but are shy to exhibit.
Don't take me wrong, I am not propagating that there is any justification for the team's recent failures. The misery of the top order just doesn't let up, the fielding efforts leave much to be desired, and our bowlers are far from achieving their potential. Perhaps the team just needed a win under their belt. Maybe a morale booster will help them rejuvenate. Sometimes all a team needs is a little inspiration, a spark of brilliance from one player or a little bit of luck to bring a whole tournament around.
The Pakistan cricket team is currently ranked seventh in the ICC rankings and is playing the World Cup at venues it hasn't visited in years. Realistically speaking, the odds are stacked heavily against us and yet we dare to dream. And why should we not? Join me in a small prayer and an attempt to send some positivity all the way to Australia and New Zealand:
"May the cornered tigers roar again! May they rise from the ashes in a blaze of glory to show the world once again that they are the most unpredictable phenomenon to ever grace a cricket field."
Let's all have a little faith now.
Salman Naseer is Senior Manager Legal Pakistan Cricket Board