Seasoned batsman Mohammad Hafeez called time to his Test career during the third and final Test against New Zealand played in Abu Dhabi last week.
The Sargodha born featured in 55 Tests and ended his career with an entry in a select group of Pakistani all-rounders with more than 3000 runs and 50 plus wickets in the longest format.
Hafeez, one of the key all-rounders for Pakistan in recent times scored 3653 runs and took 53 wickets, he is one of the five players from the country and part of a select group of 35 players overall to score 3000+ runs & take 50+ wickets.
Hafeez along with Imran Khan (3807 runs & 362 wickets), Mushtaq Mohammad (3643 runs & 79 wickets), Mudassar Nazar (4114 runs & 66 wickets), and Asif Iqbal (3575 runs & 53 wickets) are the five players from Pakistan to be a part of this all-rounders list.
The CricViz graphic here explains Hafeez's all-round contribution and placement in the Pakistani group of successful Test all-rounders.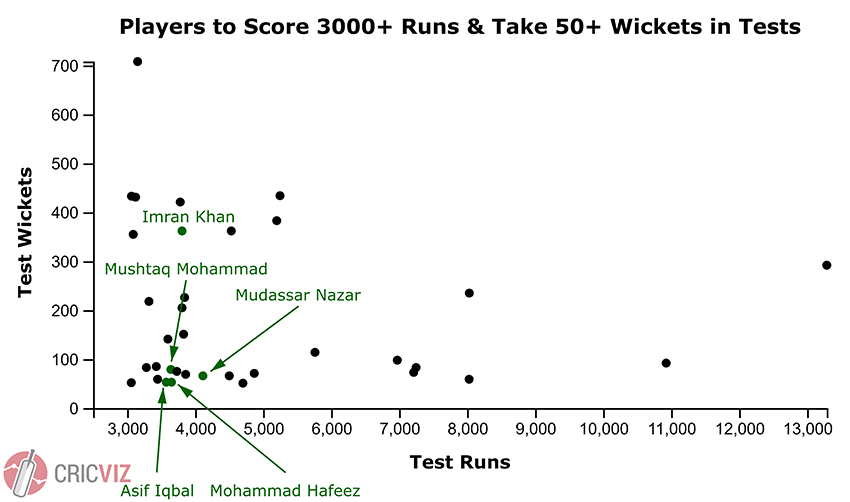 Hafeez Players to score 3000 plus runs.
Hafeez's best phase with the bat came between 2014 & 2015, where he scored 1198 runs, almost a third of his career runs, at an average of 59.9 which included four of his ten Test centuries. With the ball though, his best phase came between 2011 & 2013 where he picked up 28 wickets, more than half his career wickets, at an average of 25.96.
Hafeez played some memorable and match winning knocks for Pakistan in the Test format with his 151 against England in the series deciding Sharjah Test (2015) rated by many pundits as his finest hour due to the quality of the English bowling on a challenging wicket and the prodigious reverse swing on offer.
The 38 year-old who opened all but four times in his 105 Test innings mastered the art of scoring on Asian pitches with nine out of his 10 Test tons recorded in Asia. Hafeez scored three 100s in the UAE, two in Pakistan, two in Bangladesh and one 100 each in Sri Lanka and Zimbabwe.