Pakistan is a land of bowlers, and we have led the world in having one of the most celebrated traditions of fast bowling. As Pakistanis, we love the thrill of speed, and the ability of a bowler to be just too quick for a batsman to respond. The recent resurgence of Mitchell Johnson was enjoyed by many Pakistanis, who have a taste for the excitement that comes from watching intimidatory bowling, precisely because there is a great risk and danger that arises out of that. It becomes exciting because it is dangerous.
We usually don't dwell on the idea of how danger is exciting for us, but an incident like the tragic death of Phillip Hughes brings it to the surface. There is an inherent risk and danger to what these people are doing, and it's for the sake of our entertainment.
I don't mean to use this realisation to argue that sports are bad etc., but rather that all of us forget what players put themselves through. Hughes' untimely loss was a freak accident. But it is at the extreme end of the spectrum of sacrifices players make. They push their body through limits that they will pay for in pains and ailments for the rest of their lives. They give up their youths, the chance to make stupid mistakes and be an idiot because they have to be more professional than any of us will be at most times in our lives. And they put their emotions through the toughest haul—leaving families, losing out on love, missing birthdays and anniversaries, and not being able to be there in the lives of those that care about them the most.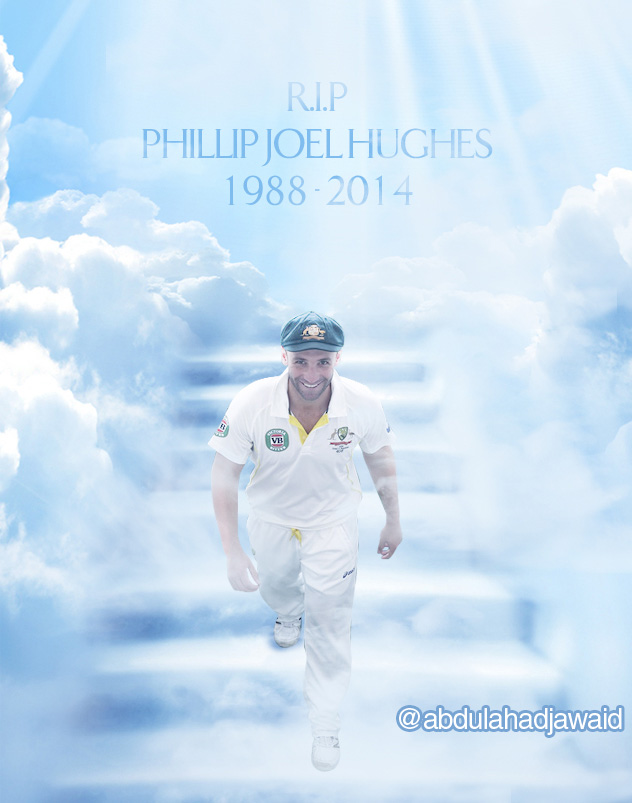 And this is all for us to be able to watch something and forget our own troubles; to replace our anxieties with insults or cheers at them; to put off the dread of not being able to find meaning in a cruel world by immersing ourselves in the meaning created by this construct.
How many times have we let off the anger we felt at a co-worker at somebody's poor shot? How many times have we found our way through sadness by finding hope in a valiant last-wicket stand? How often have we been able to feel joy once more because of a truly remarkable act of sporting skill? These are all our escapes, and yet they are also the lives of these human beings. The very real actions they take – which include pains and injuries and anxieties and fears – are what we use to populate our dreams with.
The story of Phillip Hughes was very much the basis of what we make our dreams with. A small-town boy, with a technique he learnt on his own, working tremendously hard to make it work at the very highest level. At the same time, he was also a well-loved man, famously wishing best of luck to any player who replaced him whenever he was dropped.
I kept thinking how the narrative about Hughes up till now was about how unlucky he had been—how he deserved to be a regular instead of being treated so poorly by the selectors. I kept thinking about how he was finally going to return to the Test side. Now I realise what unlucky really means—how I want him to have gone through a luckless career rather than not be with us anymore.
The point being that sports is so compelling to us because at so many levels we are asking humans to do things that most of us are never expected to, and purely for the sake of our entertainment. It is a sacred act they perform, a ritual that we all participate in, generating a meaning that we use to make sense of our own lives. It is truly remarkable, and regardless of the money they make or the celebrities they become, they are still mortal beings. Only one terrible, tiny twist of fate away from being exposed as not projections of our fantasies, but ordinary people who get hurt, and even die.
RIP Phillip Hughes.
Ahmer Naqvi is a journalist. He writes for ESPNCricinfo and appears on the online Pakistani cricket
show Pace is Pace Yaar
Twitter: @karachikhatmal
---
Disclaimer: The views and opinions expressed in blogs are those of the authors and do not necessarily reflect the official policy or position of the Pakistan Cricket Board (PCB)