Q: Peshawar Panthers won the recently concluded Pakistan's Twenty20 Championship 2014 without any international player in the squad. Has any other team done it before in different Twenty20 tournaments around the world?
—Zeeshan Usmani from Lahore
A: Peshawar Panthers won their maiden Twenty20 title when they beat Lahore Lions in the final of Twenty20 Cup in Karachi on September 28. It was the first time in Pakistan's domestic history that a T20 tournament was won by a team without an international cap. There are a few other instances of teams winning T20 tournament without international players, most notably Maharashtra won the Syed Mushtaq Ali Trophy by beating Hyderabad in the final in 2010. Maharashtra won the tournament, which had 26 teams from all over India.
Q: Sialkot Stallions' Mukhtar Ahmad against Karachi Dolphins scored a century and also took 3 wickets. How often has this double been achieved in T20 Cricket?
—Tariq Saeed from Lahore
A: Mukhtar Ahmad, who scored a century off just 48 balls after taking three wickets earlier in the match, is the fifth player to achieve the feat of scoring 100 and taking 3 or more wickets in the same Twenty20 match. He is the third player from Pakistan to do so after Tafueeq Umar and Imran Farhat. Taufeeq, playing for Lahore Lions, hit a ton and grabbed 4 wickets against Islamabad in Karachi in 2006 whereas Farhat did it in the same tournament against Multan. The other two cricketers are Leicestershire's Jim Allenby in 2009 and Royal Challenger Bangalore's Chris Gayle in IPL 2011. Taufeeq Umar is the only player with a century and 4 wickets in the same match.
Q: Quetta Bears successfully chased 165 against Larkana Bulls without losing a wicket. What is the record chase in T20 Cricket when the team won by 10 wickets?
—Sheikh Rashid from Karachi
A: Quetta Bears' effort of successfully chasing 165 against Larkana Bulls in Pakistan's regional T20 Championship was the second highest chase in T20s without losing any wicket and was just one run short of the world record, which is 166 by Barisal Burners against Sylhet Royals in Bangladesh Premier League in 2012. Openers Ahmad Shahzad (56) and Chris Gayle (101) handed Barisal victory without getting out. Third on the list is 163 by Mumbai Indians against Rajasthan Royals in IPL 2012.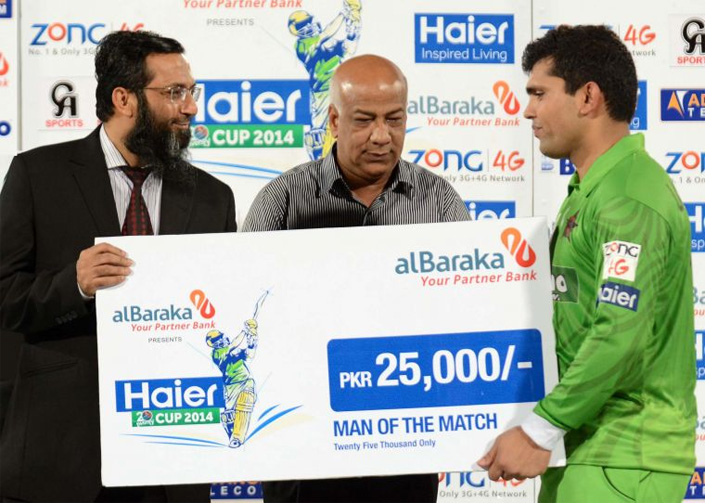 Q: Kamran Akmal recently completed 150 dismissals in Twenty20 cricket. How many other wicket-keepers have achieved this milestone?
—Asim Abbasi from Rawalpindi
A: Kamran Akmal, who played for Lahore Lions, is in fact the first ever wicket-keeper to reach the milestone of 150 dismissals in Twenty20 cricket. At the moment, Akmal has 151 dismissals in 139 matches, which means on average he catches/stumps at least one batsman in a T20 match. The next on the list is MS Dhoni who has 124 dismissals but has played 189 T20s. Of Kamran Akmal's 151 dismissals, 70 have been stumpings, which is also most by any keeper in T20 format.
Q: Is it correct that Gaddafi Stadium Lahore has the record of staging most number of Twenty20 matches?
—Fawad Jutt from Islamabad
A: The statement was correct about a fortnight ago when Gaddafi Stadium Lahore (108) was the only venue in world to host over 100 Twenty20 matches. But the record has now been broken by National Stadium Karachi (NSK), which hosted all the matches of Bank Albaraka Presents Haier T20 Cup – taking its overall tally to 127 matches, a new world record. NSK became the second ground to complete its century of T20 matches. The third on the list is Bangladesh's Mirpur stadium, which has seen 96 games followed by the Oval in London (83) and Trent Bridge in Nottingham (82).
Q: What is the lowest total by a team in a T20 match played in Pakistan? Does DM Jamali have this unwanted record?
—Khurram Shahzad from Multan
A: Dera Murad Jamali were bowled out for mere 55 runs against Lahore Lions during the T20 regional championship in Karachi. 55 is indeed the lowest ever total by any team in Pakistan. The previous record was 64 by WAPDA, which achieved this unwanted record less than a year ago against SNGPL during the Twenty20 cup between departments in Lahore. The previous lowest total by a regional team was 67 by Quetta Bears against Rawalpindi Rams in 2008.
Mazher Arshad is a cricket statistician and blogger. You can email him your queries at [email protected] or tweet @Cricket_U
---
Disclaimer: The views and opinions expressed in blogs are those of the authors and do not necessarily reflect the official policy or position of the Pakistan Cricket Board (PCB)