Peter Oborne is a British journalist and author of Wounded Tiger: A History of Cricket in Pakistan. At his book launch at the Lahore Gymkhana Cricket Ground Lawrence Gardens on November 9, Peter talked to the PCB about Pakistan cricket.
PCB: Why were you interested in writing about Pakistan cricket?
Oborne: I came to Pakistan a number of times to report political stories and natural disasters, like the floods. I travelled throughout Pakistan – I travelled in Sindh, Punjab, Swat, northern territories, I have travelled almost everywhere – and everywhere I went I saw cricket being played on the streets, on the hilltops, in valleys, on riverbeds, on lovely grounds like this [Lahore Gymkhana Cricket Ground] – everywhere! I understood the enormous enthusiasm for the game. I asked myself what does this tell us about Pakistan, the nation.
I started to read more about it, to meet cricketers and everybody I met exhilarated me because in England, cricket can be rather conformist. We are very privileged, we have very lovely grounds but people take them for granted and there is a structured approach. Here in Pakistan, people have less advantages playing cricket but they play much better, with verve and from the heart. This is why Pakistan cricket has been responsible for so many of the great inventions of the modern game, like the dusra, reverse swing, etc. Believe it or not, the reverse sweep was invented by Hanif Mohammad – so many of the technical innovations in recent years have come from Pakistan because people don't rely on coaching so much as they invent the game.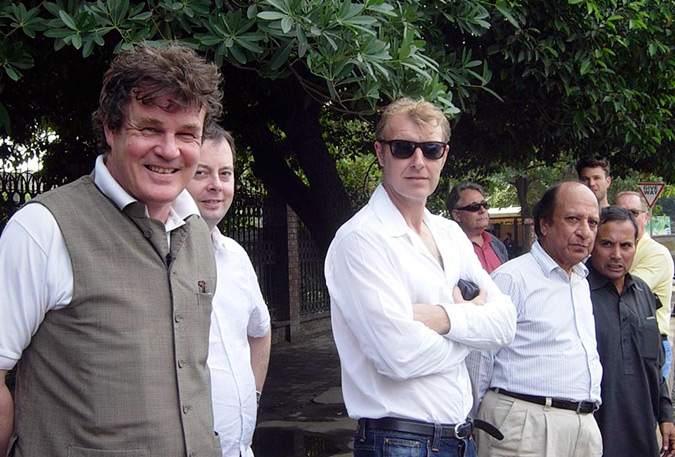 So many of the truly great players of our epoch like Imran Khan, Abdul Qadir, Younis Khan come from Pakistan. I wanted to know who they were, I wanted to tell the stories of Hanif Mohammad, A H Kardar, Fazal Mahmood, Javed Miandad, Majid Khan...all the great players. I wanted to understand where they came from. There was one other thing. I was cruelly conscious that Pakistan cricket was being misrepresented across the world. If you look at the English press, some of the reports have been very negative, where they portrayed Pakistani players as cheats.
I have looked at the history of Javed Miandad and you can see he is not a cheat. He is a great cricketer, a superb cricketer. Many times, the English teams have behaved disgracefully like with Shakoor Rana or the kidnapping of Idrees Baig. English press has always written it with an English point of view. Indian cricket writing has been very dominant but it has often misrepresented or misunderstood the truth about Pakistan cricket. I have sought to tell the truth – not to be biased, not to be pro-Pakistani, but simply to tell the truth about what Pakistan cricket really is.
PCB: What do you think about the current Pakistani team and our young players?
Oborne: This current team is an enormous achievement. Over the last five years, Pakistan has been playing in conditions of incredible adversity because you are not allowed to play Test matches at home and that is a desperate loss for any cricketing nation. The international team has been playing in Dubai. Misbah's matches have been overseas; they could have collapsed under pressure – instead of which, as we have just seen, the Pakistan team triumphed over the great Australians. I must say I am amazed by the way that Pakistan cricket has been so strong. I think the achievement of Misbah is incredible. I believe he can be one of the great Pakistan captains and be placed alongside Imran Khan, A H Kardar. He is a truly extraordinary figure; the way he scores his runs in difficulty and in trouble, his level-headedness, the strength of his character are a lesson to the world.
PCB: What are the chances of Pakistan winning the 2015 World Cup?
Oborne: Pakistan must be, in my mind, one of the favourites to win. If you look at the depth of the talent – I mean you lose Ajmal and suddenly two new spinners arrive. You have brilliant new players like Yasir Shah. If you can, I have no doubt that Pakistan have the talent to win the World Cup. I have to say I have become rather partisan. I hope you do (win).
PCB: Do you think that international can make a comeback in Pakistan?
Oborne: Not only do I believe that it can make a comeback in Pakistan, I believe it must make a comeback. International cricket must be played here otherwise, over time, cricket will be weakened in Pakistan and the world cannot afford to lose Pakistan cricket. Secondly, I think that Pakistan itself would lose something if the cricket went away. It is a matter of urgency that it returns to this country. I am quite clear that it can be done. The security situation can be constructed, which will enable international teams to come back. We have just been playing several matches in Lahore; we have felt no threat, we have been safe, and I know that it can be done.
PCB: Who is your all-time favourite Pakistani cricket player?
Oborne: It's very difficult. You have the great Hanif, his determination in adversity, the good Fazal Mahmood, you have Majid Khan, such a beautiful batsman, you have Imran who created that magnificent team of the 80s, Javed Miandad, but I have to say, speaking for myself, my favourite player is Abdul Qadir. The world does not understand the debt which it owes to Qadir for reinventing the great art of leg spin bowling. Thanks to him you have a whole new generation – Mushtaq Ahmed, Shane Warne – and now he is training up the new generation, those brilliant spinners who did so well in Dubai and Abu Dhabi.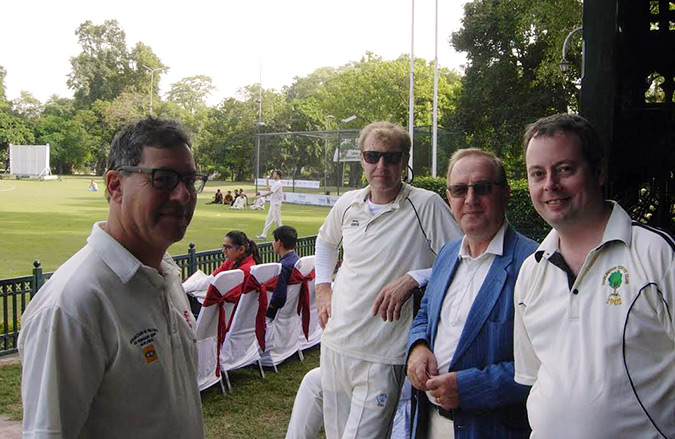 PCB: Everybody keeps talking about the immense talent in Pakistan. How do you see it?
Oborne: If you look at where these great bowlers have come from in recent years, they have come from the villages, the poorest areas in the cities, Shoaib Akhtar was the son of a night watchman and he was just driven by this passion and this sense of destiny to become the fastest bowler the world has ever known. The greatest Pakistan cricketers today are forces of nature. Akhtar was a mythical figure in many ways. He was a legendary force and there is nothing more exciting and unpredictable. Pakistan has this ability unique in world cricket to produce new talent of the kind that has never been imagined before.
PCB: What do you think about the ban on Mohammad Aamer?
Oborne: I think the conduct of Salman Butt and Asif was despicable. Aamer walked into a dressing room that was corrupt. I recommend everybody to read the piece of investigative journalism done by former England Captain Michael Atherton, which set out the circumstances where Salman Butt tricked Aamer into the terrible things that he did. I believe that he was very young and vulnerable. He has paid a very heavy price and I do believe he should be given the chance, after he has served the ban, to come back into international cricket. It is such a tragedy because it looked like he could be ranked alongside Fazal Mahmood or Wasim Akram.
PCB: What do you think the PCB should do as a board to promote cricket?
Oborne: There is one thing the Board must do. This is about grassroots cricket and cricket through the nation. Everywhere you go, you see these fabulously talented Pakistan youngsters, from the poorest backgrounds, who find it very difficult to get access to the right infrastructure, the grounds, the kits. What is exciting about Pakistan cricket is they are suddenly coming from new places, like Shinwari comes from the tribal areas. I think they [PCB] need to really invest and search to find the talent, the next Shoaib Akhtars, the next Abdul Qadirs, the next generation.