Javed Miandad was an exceptional batsman and an epitome of doggedness, scoring over 16,000 international runs with 31 centuries and 93 half-centuries.
A fearless, prolific and a peerless cricketer, his 'street-fighter' approach served him well both as a batsman and as a captain. Lumbered with captaincy prematurely in 1980-81 when only 21, he was in and out of the job a number of times, resigning for the first time in favour of Imran Khan at the end of a home Test series against Sri Lanka in 1982.
Having made his Test debut in 1976 with a century (163 not out) against New Zealand at home, he also notched a double-century in the third and final Test at Karachi and never looked back.
In the 1982-83 Test series against India, he made his highest score of 280 not out at Hyderabad's Niaz Stadium, sharing a stand of 451 with Mudassar Nazar for the second wicket, equalling a long-standing record in the name of Bill Ponsford and Don Bradman.
On the return tour to India in 1983, Miandad had scores of 99, 66 and 60 as the three-Test series ended in a draw. Later that year, Miandad scored 131 in the drawn Adelaide Test against the pace attack of Geoff Lawson, Dennis Lillee, Rodney Hogg and the spin duo of Thomas Hogan and Greg Chappell. Less than a year after scoring a century in Adelaide, Miandad stroked centuries in each innings against Jeremy Coney's New Zealand in the Hyderabad Test.
Miandad's third career double-century was against Sri Lanka in the Faisalabad Test in 1985, before his fourth and final double-century came against England in 1987. Miandad's 260 in the final Test at The Oval ensured a hard-fought 1-0 series win after a victory by an innings margin in Headingley.
Prior to the tour of England, Imran Khan's Pakistan was involved in the mother of all series – versus India in India. After three high-scoring draws, India and Pakistan came to Bengaluru for the final Test. Miandad had been in decent form in the series, hitting four half-centuries in five innings. In the finale, which is remembered as one of the most thrilling, entertaining and nail-biting Tests, Pakistan beat India by 16 runs. This was Sunil Gavaskar's final Test in which he scored 21 and 96, while Miandad's contribution with the bat was seven and 17.
On the 1988 tour of the West Indies, Miandad cemented his place as truly one of the batting greats when he first scored a century in the fifth and final ODI in Guyana and then hit back-to-back centuries in the Guyana and Port-of-Spain Tests against the pace quartet of Patrick Patterson, Curtly Ambrose, Courtney Walsh and Winston Benjamin, and backed up by off-spinner Carl Hooper.
After Pakistan's World Cup win in 1992 in Australia and New Zealand, where Miandad was the second best batsman after Martin Crowe, he was once again made captain in place of Imran Khan who was nursing a shoulder injury. On the 1992 tour to England, he led from the front with scores of 153 not out (his 23rd and last century), 9, 0, 88, 45 not out, 6, 4 and 59 as Pakistan won the five-match series 2-1 under testing circumstances.
While Miandad's final Test innings was against Zimbabwe in Lahore in December 1993, he bowed out of international cricket three years later with Pakistan's 39-run loss to India in the World Cup 1996 quarter-final in Bengaluru. Chasing 288 for victory in 49 overs, Miandad was the eighth batsman out at the score of 239 after contributing 38.
Always ready for a challenge, Miandad once hit a last-ball six off India pace bowler Chetan Sharma in a tournament final at Sharjah in 1986 when Pakistan required four to win. That one stroke was to change the balance in favour of Pakistan for years to come as India struggled to win matches against them.
An unassuming, modest and friendly individual, he was at times misunderstood by those who did not know him. As captain, he had an ugly altercation with Dennis Lillee during a Test against Australia in Perth after being intimidated and sledged. Lillee kicked him on the back of his leg and Javed retaliated by raising his bat in a threat to decapitate Lillee, when the umpire intervened.
He was also accused of delaying tactics as a captain to save the Faisalabad Test in 1987 against England when umpire Shakoor Rana and England captain Mike Gatting had a finger-wagging confrontation over allegations by Shakoor for incommoding the batsman Salim Malik. A day's play was lost because of it.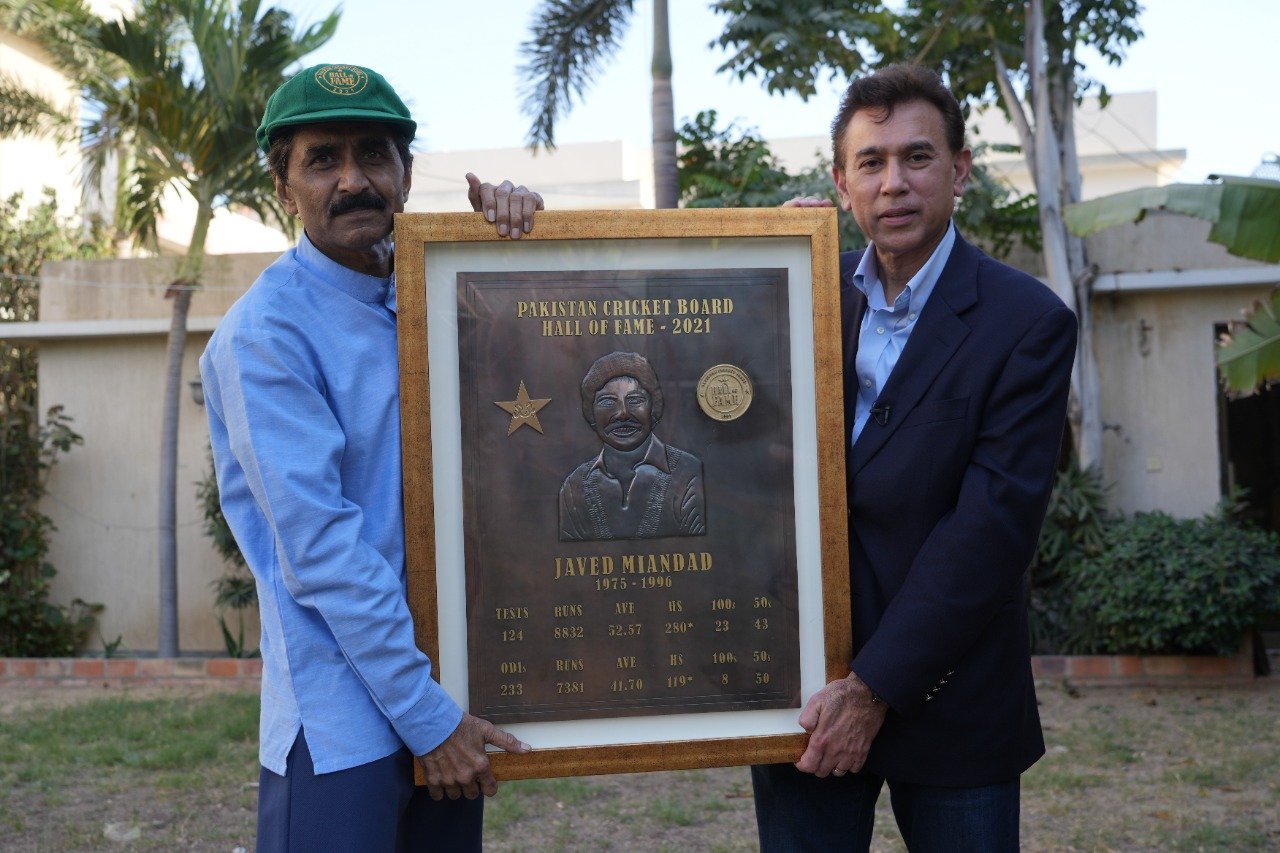 In his teens, Javed had shown promise in school cricket and was immediately noticed by a Karachi City Cricket Association (KCCA) official. As word got around, former Pakistan captain Abdul Hafeez Kardar took him under his wings, showering high praise on his fighting qualities to get him picked for Under-19 teams and for the ICC World Cup 1975 which was held in England.
Later, a stint in the Bolton League in Lancashire led him to his county career, first with Sussex and later a successful one for Glamorgan. He had made a double-century for Sussex second in a trial game before the county singed him. Having moved to Glamorgan from Sussex in 1980, Javed captained them in 1982.
A rare batsman to finish with a Test average of over 50, Javed also coached Pakistan and served at the Pakistan Cricket Board as their Director General.
In 124 Tests, he scored 8,832 runs and struck 23 centuries. He led in 34 Tests, winning 14, losing six and drawing 14. In 223 ODIs, Miandad scored 7,381 runs with eight centuries and 50 half-centuries. He also captained Pakistan in 62 ODIs.
For his career stats click here