Pakistan fighting to stay in the game
Manchester – July 23, 2016: England dominated the second day of the Old Trafford Test Match. Joe Root made a superb 254 but by the close Chris Woakes had taken three wickets and left Pakistan at 57-4 in response to England's huge 589-8 declared and still 532 runs in arrears.
England began the day on 314-4 with Root and Woakes at the crease. Little changed from overnight and England remained in control. By noon Root had clocked up his 150 and soon Woakes brought up his fifty with a single through midwicket. Woakes became the twelfth English nightwatchman to go on to make a fifty.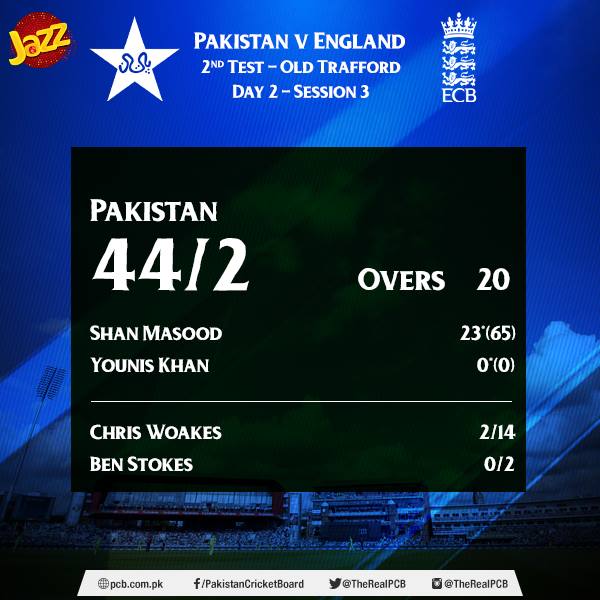 Shortly before lunch Woakes walked off disconsolate after giving a caught and bowled chance to Yasir. By lunch England were 427-5.
Pakistan were still finding the going hard after lunch. This wasn't helped when one chance after lunch off a miscue by Stokes off Yasir landed between three fielders. It was one of those days.
Root now moved to his double century with a perfect reverse sweep from Yasir.Shortly afterwards Pakistan reviewed a caught behind from Stokes to Wahab which was given not out. Eventually the third umpire detected a hot spot on his left glove and an annoyed Stokes was gone for 34.
More bad news for Pakistan, as Sarfraz dropped Bairstow on nine from an attempted cut off Yasir.
Shortly after 3 pm England had brought up the 500 and it was already proving to be a second tough day for Pakistan.
Before tea, even Shan Masood was pressed into action, bowling his first over in Test cricket.
At tea, England reached 533-6 and Misbah offered congratulatory remarks to Root still there unbeaten.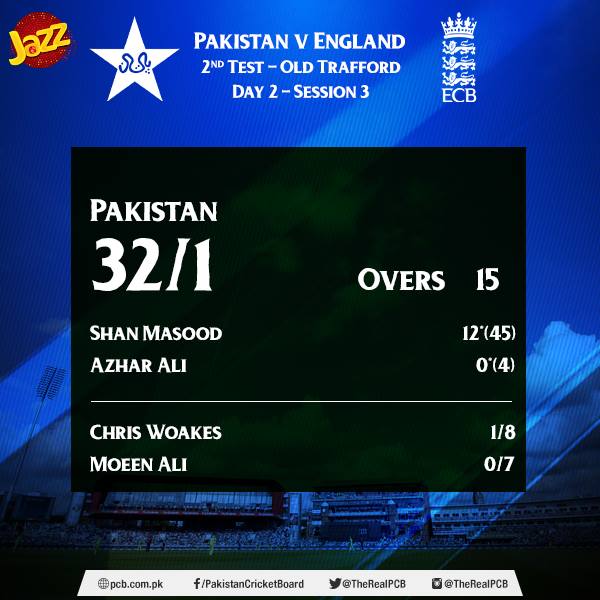 After tea England pressed on the accelerator and Root swept Azhar for three successive fours. Joe Root's 250 came up at 4.15 as he pushed off the back foot.
Finally Root's innings came to an end on 254 when he was caught by a diving Hafeez from the bowling of Wahab. Bairstow soon departed too caught by Misbah from the bowling of Wahab.
The moment he was out England declared on the mammoth total of 589-8. England's second highest total against Pakistan.
England roared in with the crowd behind them but they faced resistance from Pakistan's openers.On 15-0 there was a big appeal when Mohammad Hafeez was rapped on the pads by Broad but it was given not out and there was no review.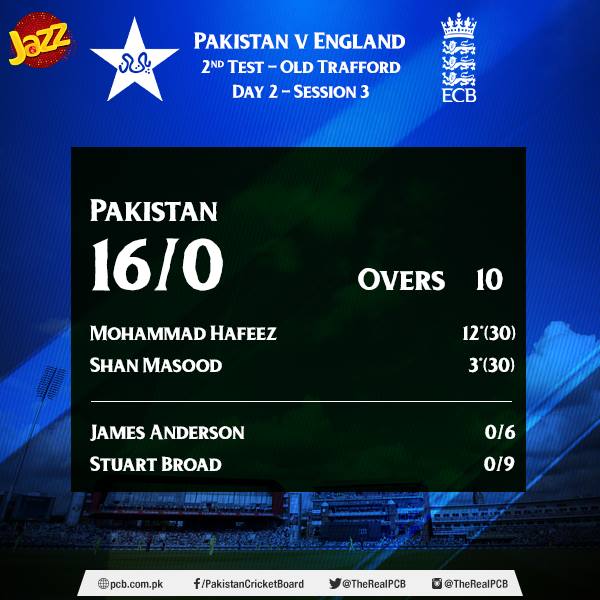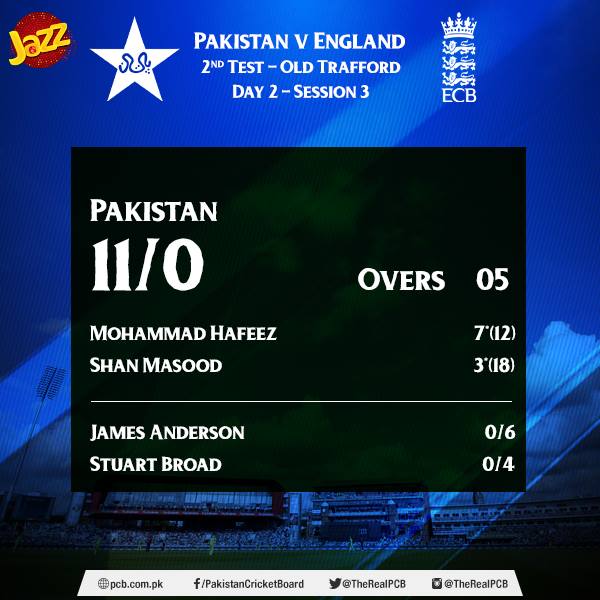 Woakes came on to bowl and he took the wicket of Hafeez caught at slip by Root with the score at 27-1. More was to come as he caught and bowled Azhar for one, making the scoreboard read 43-2.Stokes now came into action and he had Younus caught behind to make it 47-3 to a ball sliding down the leg side.
And Woakes was not finished yet as he had night-watchman Rahat caught by Ballance off a bouncer for 4.
Stokes then hit Misbah on the glove but at stumps Pakistan were 57-4, still adrift by 532 runs and fighting to stay in the game.