ISLAMABAD - 26 April, 2016: Zarai Taraqiati Bank Limited (ZTBL) ladies turned out to be too hot to handle for State Bank of Pakistan (SBP) in the final of 11th Fatima Jinnah National One-day Cricket Championship on Tuesday.
The star-studded ZTBL rattled SBP harmless by winning the title by eight wickets at the Pindi Stadium.
Electing to bat first, SBP could muster 179 for nine wickets in the given quota of 50 overs. Fareeha Mahmood with 48, was the only prominent scorer for SBP. She smacked six boundaries in her 92-ball stay at the crease. Aiman Anwar (3-23) bowled well to keep SBP within the limits.
It was then ZTBL star ladies Naheeda Khan (70) and Javaria Khan (57) who developed 116 runs for the opening wicket in just 80 minutes to put their team on the road to victory.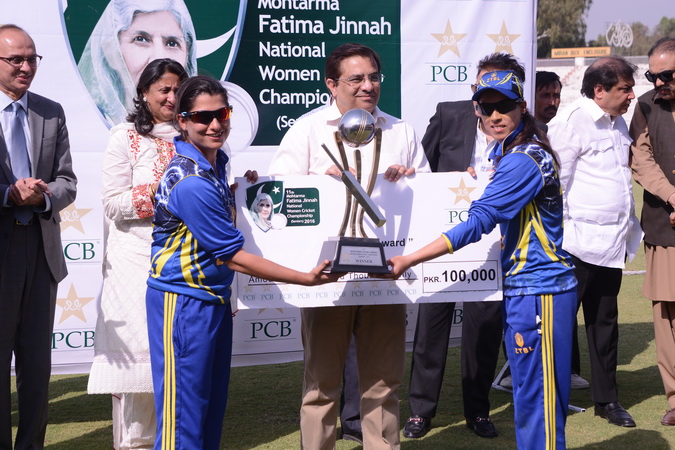 Naheeda hit six fours during her 100-ball stay at the wicket while Javaria played an attacking knock studded with seven boundaries. She took 57-ball to reach 57. Elizabeth Barkat (1-39) and Hafza Khalid (1-26) bowled well for SBP.
Director Game Development Pakistan Cricket Board (PCB) Aizad Sayid , former MNA Hanif Abbasi, MNA Malik Ibrar, Chairman ZTBL Syed Talat Mehmood distributed prizes and awards amongst the prize winners.
The championship trophy was received by Sana Mir, ZTBL captain. ZTBL chairman announced Rs 200,000 for ZTBL women team and Rs 50,000 for SBP team.
Scores: SBP 179 for 9 in 50 overs (Fareeha Mahmood 48, Aliya Riaz 23, Aiman Anwar 3-25). ZTBL 181 for 2 in 34.1 overs (Naheeda Khan 70, Javaria Khan 57, Bismah Maroof 27*, Elizabeth Barkat 1-39, Hafza Khalid 1-26).
Prize winners: Woman of the Match: Naheeda Khan (ZTBL)
Best Bowler of the Tournament: Sana Mir (ZTBL)
Best Player of the Tournament: Javeria Wadood (ZTBL)
Best Fielder of the Tournament: Irum Javed (State Bank)
Best Wicketkeeper of the Tournament: Huma Shafiq (Islamabad)