Lahore, 3 October 2022: Pakistan Cricket Board Chairman Ramiz Raja has thanked both England and Pakistan cricket teams as well as the spectators for ensuring the world followed the seven-match T20I series. England won a hard fought and keenly-contested series 4-3 as crowd attendances remained at 95.3 per cent and around 99 per cent in Karachi and Lahore, respectively.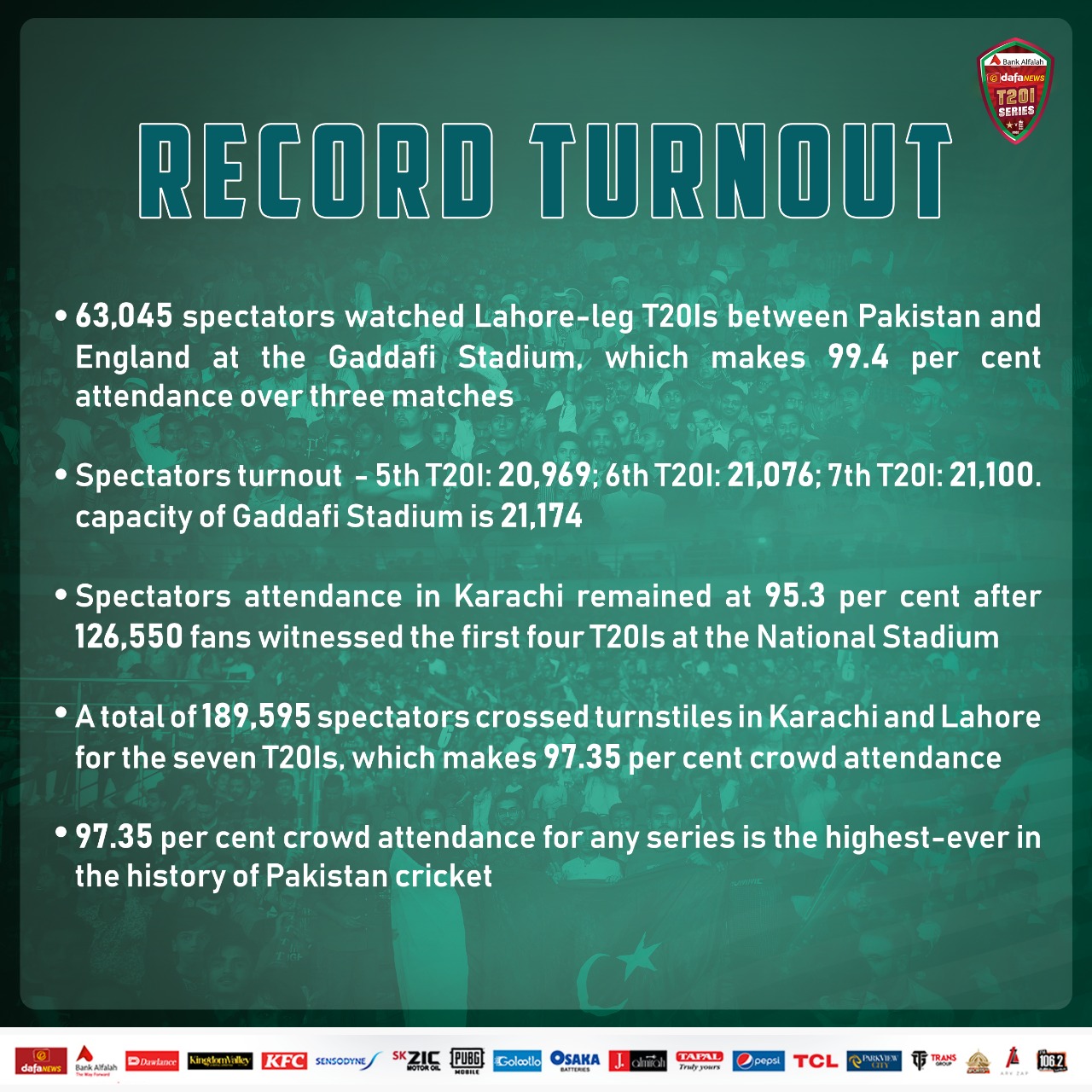 Ramiz Raja: "Prior to the start of the series, the general perception was it was too long a series. I was worried how we will keep the interest of the fans alive over seven T20Is at two venues in a space of 12 days. However, the quality of cricket played and the overwhelming response we have received from the Karachi and Lahore crowds as well as on the new media, it seems it was a short series.
"Packed houses despite four of the seven matches taking place on work days have clearly established the bonding between the national side and the cricket fans. The fans now own and back this side purely on the basis of on-field performances in the past 12 months during which they have shown tremendous concentration, resilience and fighting spirit.
"It is a matter of great satisfaction for any organisation when it succeeds in re-establishing relationship and engagement between the team and its fans, and in this context, I feel absolutely satisfied and happy.
"I would like to give full credit to the England side who also won the hearts of the Pakistan cricket fans with their own brand of cricket. It was great to host them for the first time in 17 years and I am sure they will now be regular visitors, be as part of the England squad or as overseas players for the HBL Pakistan Super League.
"Earlier this year, we had promised our fans of delivering high-intensity home international cricket. We have now successfully produced the first-ever uninterrupted HBL Pakistan Super League, Australia's men's first full tour in 24 years and the first-leg of England's visit for T20Is. The stage is now set for December's three Tests between Pakistan and England.
"Alongside these series, our highly-competitive domestic cricket is ongoing while the Pakistan Junior League will commence next week.
"Putting together smooth and flawless events of these magnitude is not easy. As such, I want to thank my entire staff for their efforts and hard work, as their contributions are helping me achieve the administrative excellence as part of one of my objectives as PCB Chairman.
"I also want to offer my heartfelt thanks to all our commercial partners and broadcasters, who played an important part in showcasing our cricket and passion across the globe."