Matches start on 4th February 2016, top international cricketers set to take part
Dubai, 17 January 2016: HBL PSL announced itself in Dubai and Sharjah with a meet and greet event at a local hotel attended by leading business and media partners.
Chairman HBL PSL Governing Council, Mr. Najam Sethi was joined by Mr. Naveed Asghar, Chief Marketing Officer HBL, Mr. Salman Iqbal, CEO ARY and owner of Karachi Kings franchise, and Mr. Abdulrahman Falaknaz, Partner Dubai Sports City, for a press meet and greet event in Dubai.
Addressing the business community and media at the event, Mr. Najam Sethi said: "The HBL Pakistan Super League is now just days away and it is an exciting time for all cricket fans. I must thank all our valued partners in Dubai and Sharjah who have helped us in realizing this dream."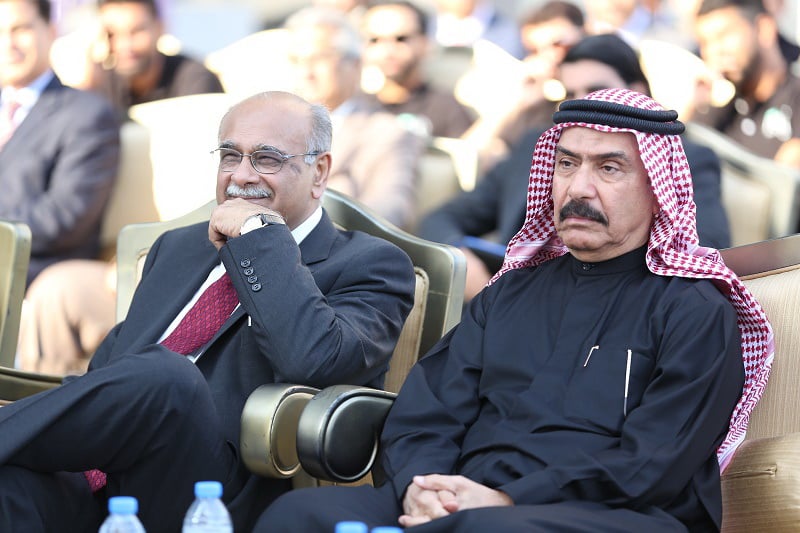 Formally launching the sale of tickets, Mr. Sethi added: "I am pleased to announce that apart from online ticket sales at kyazoonga.ae/psl, we have many retail outlets where fans can go and purchase tickets. We are bringing top international players from 9 countries to the Dubai and Sharjah and I am confident that fans will come out to support their favourite stars." Mr. Sethi also bought a match ticket that he will gift to a fan who sends the best tweet to him at the PSLTwitter account (@thePSLt20).
Speaking on the occasion, Mr. Naveed Asghar, Chief Marketing Officer of HBL said: "HBL, Pakistan's largest bank, is honored and delighted to partner with Pakistan Super League to bring the biggest sporting festival of Pakistan – the HBL PSL. HBL is a national institution that has always played an instrumental role in promoting sports and sportsmen, especially cricket, with some of the largest sporting stars in the country having realized their dreams with HBL."
Mr. Abdulrahman Falaknaaz, Partner Dubai Sports City spoke about Dubai Sports City's association with Pakistan Cricket Board: "We have partnered with Pakistan Cricket board for a number of years now. The HBL Pakistan Super League is a grand event and we are very pleased to be the host for the first season of HBL PSL. I anticipate great interest in the inaugural edition of this premier cricket event."
Pakistan Women's Cricket Team Captain Sana Mir, Fawad Alam, Junaid Khan, Ehsan Adil and Bilal Asif also attended the event.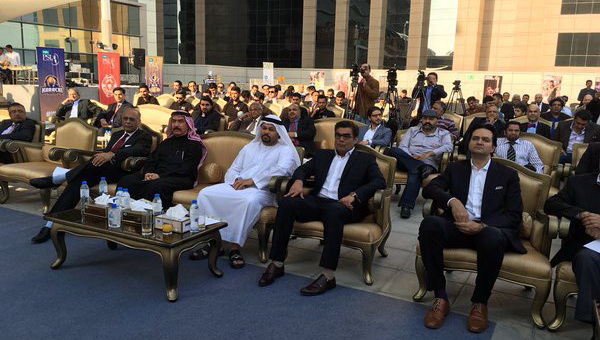 With top international cricketers from 9 different countries taking part in the League, it is sure to attract a wide variety of cricket fans from the UAE and beyond. These stars include Pakistani T20 skipper Shahid Afridi, England's Kevin Pietersen, Australian all-rounder Shane Watson, former Bangladeshi captain and currently number 1 ranked ICC T20 all-rounder Shakib al Hasan and West Indian opener Chris Gayle.
Tickets for HBL PSL are available online to fans across the world at kyazoonga.ae/psl. Fans in UAE can also purchase tickets from branches of Al Fardaan Exchange, Karachi Darbar, Kulcha King, AJ Sports, Tandoori Junction, Sindh Punjab, TCS, and Delhi Nihari. Ticket prices for the single headers start from an extremely affordable AED 20 while tickets for play-offs, double headers, and the final start at AED 30.
The opening ceremony of the HBL Pakistan Super League will see performances by Pakistani heartthrob Ali Zafar and Sean Paul, and a fireworks show that the public will be able to enjoy before the opening match between Quetta Gladiators and Islamabad United.