LAHORE - September 24, 2017: The PCB unveiled the Pakistan- Sri Lanka series logo with great fanfare here at Gaddafi Stadium, Lahore in the presence of print and electronic media. The PCB was represented by Amjad Hussain, Director Media and Coordination and Inzamam ul Haq, chief selector Pakistan national team.
Speaking on the Occasion:
Mr. Amjad Hussain, Director Media and Coordination, PCB said: The PCB is making its utmost efforts to resume international cricket in the country, and in that regard the media has always played a very vital role. He said, with the successful hosting of three match T-20I series between Pakistan and World XI in Lahore last week, the PCB was ready to host Sri Lanka for atleast one T-20I match next month.
Mr. Inzamam ul Haq, Chairman Selection Committee said: He was excited to be here at the logo unveiling ceremony for Pakistan-Sri Lanka series. He said, Pakistan was starved of hosting international cricket for quite a long period, but with the sheer hard work of PCB headed by Chairman PCB Najam Sethi, the World XI team had made a successful visit to Lahore recently. He said, similarly the sponsors too have played a very important role in Pakistan's cricket, and deserve all credit to have remained with PCB through thick and thin.
Mr. Naeem Butt, on Behalf of J. Junaid Jamshed, said J. Junaid Jamshed, which is one of the leading fashion brands in Pakistan and has grown over the years to Extend its operations towards fragrances, launched a perfume in name of our legend Wasim Akram.
The brand also remains true to the sentiments shared by the world renowned personality Junaid Jamshed himself in his timeless song, "Dil Dil Pakistan" which has become the anthem of patriotism in "We will continue to promote the passion of victory in all aspects of the nation through thick and thin and will promote Pakistani cricket."
J. Junaid Jamshed is the Title Sponsor for the Test Series, Presenting Sponsor for the T20i series and Co-Sponsor for the ODI Series."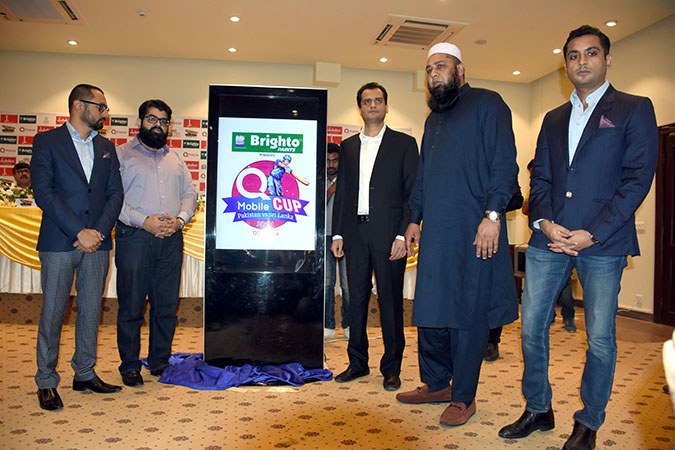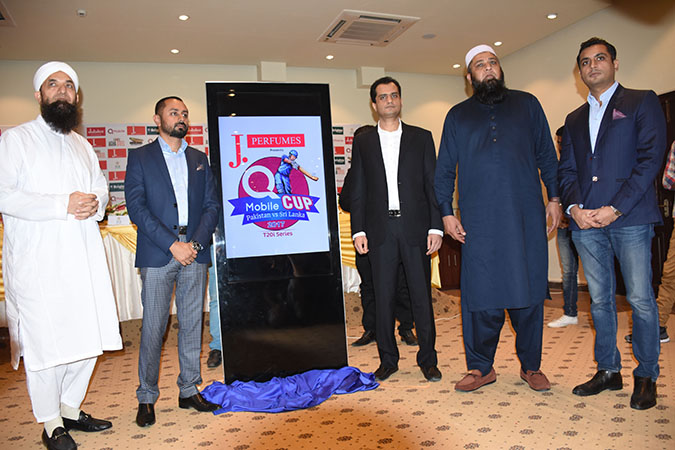 Mr. Zeeshan Akhtar, Chairman QMobile. Said Q-Mobile is proud to be a Title Sponsor for the ODI series, T20i series and Presenting Sponsor for the Test Series & Assured Q-Mobile support to cricket Pakistan at every level whether it's Domestic cricket or International cricket. Q-Mobile is looking forward for exciting game of cricket and extends every support for the glory of the sport.
Mr. Zain Sikka, Director Brighto Paints Brighto Paints the leading paint manufacturers in Pakistan having there operational networks in Afghanistan, UAE, Saudi Arabia & South Africa, has always played a vital role in promoting our National heroes and local talent. Brighto Paints has always worked a step ahead to give our talent International exposure. Whether it is in the field of Education or through Hockey, Football and now Cricket. Our management's vision is to always support young talent and to change the mindset of international media, reveal the soft image of our mother land.
Brighto Paints is committed to continue their efforts in bringing about this change to promoting/supporting all sports in Pakistan and help young talent to reveal their ability on international platforms. Brighto Paints is the Presenting Sponsors for the ODI series Co-Sponsor for the Test and T20i series.
Mr. Syed Usman Qaiser – Chief Manager Marketing Jubilee Life Insurance said Jubilee Life, Pakistan's largest life insurance provider in the private sector, has agreed to partner with the Pakistan Cricket Board (PCB) as co-sponsors for Pakistan's upcoming series with Sri Lanka in the UAE starting this month.
"Signing up as the co-sponsor of this tour is a testament to Jubilee Life's philosophy of supporting sports in Pakistan," said Usman Qaiser, Chief Manager Marketing, Jubilee Life. With the recently concluded World XI series, things are looking exciting for cricket in the country. As co-sponsors, we wish to extend our full support to Pakistan cricket and hope that this wonderful revival continues and keeps achieving unprecedented milestones."
Jubilee Life has been a longstanding supporter of sports in Pakistan. The company was the lead sponsor of the Pakistan Super League (PSL) outfit Quetta Gladiators last season. Other than cricket, Jubilee Life has also lent its support to other sports in Pakistan including snooker and golf. This sponsorship will be the first time Jubilee Life will partner with the PCB as a sponsor for any cricket tours.
"We are glad to have Jubilee Life as co-sponsors for this tour," said PCB spokesperson. "It is indeed heartening to see local companies step forward and extend their financial support to cricket in Pakistan. We are on the road to revival of cricket in the country and support of entities like Jubilee Life will go a long way in helping us achieve those objectives. We now hope the team has a successful tour and returns home victorious."
Jubilee Insurance is a global brand of Aga Khan Fund for Economic Development (AKFED) that offers diverse insurance solutions (life, health and general). Jubilee Life has been the pioneer in banc-assurance distribution and is the market leader among private sector life insurance companies in Pakistan. With an average growth of 38% over the last five years, Jubilee Life is the most profitable and valuable life insurance company on the stock exchange.
Mr. Muhammad Imran Khan, General Manager Sales & Marketing Power Motorcycle said we are proud to be the Sponsor of this Cricket Series between Pakistan & Sri Lanka. We will continue our support for the game of cricket and Pakistan. Power Motorcycle is the Co-Sponsor of this Test, ODI, T20i Series.
Event Logo & Nomenclature of the Series:
"Q Mobile Presents J. Junaid Jamshed Cup 2017"
Pakistan Vs Sri Lanka TEST SERIES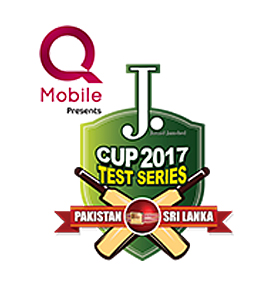 Main Sponsors of the Series:
| | |
| --- | --- |
| J. Junaid Jamshed | Title Sponsor |
| Q Mobile | Presenting Sponsor |
| Brighto Paints | Co-Sponsor |
| Jubilee Life Insurance | Co-Sponsor |
| Power Motorcycle | Co-Sponsor |
| Agha Steel Industries | Associate Sponsor |
"Brighto Paints Presents Q Mobile Cup 2017"
Pakistan Vs Sri Lanka ODI SERIES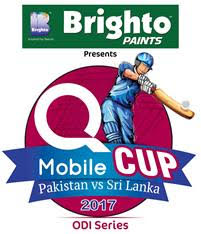 Main Sponsors of the Series:
| | |
| --- | --- |
| Q Mobile | Title Sponsor |
| Brighto Paints | Presenting Sponsor |
| J. Junaid Jamshed | Co-Sponsor |
| Jubilee Life Insurance | Co-Sponsor |
| Power Motorcycle | Co-Sponsor |
| Agha Steel Industries | Associate Sponsor |
"J. Perfumes Presents Q Mobile Cup 2017"
Pakistan Vs Sri Lanka T20i SERIES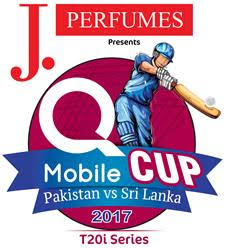 Main Sponsors of the Series:
| | |
| --- | --- |
| Q Mobile | Title Sponsor |
| J. Perfumes | Presenting Sponsor |
| Brighto Paints | Co-Sponsor |
| Jubilee Life Insurance | Co-Sponsor |
| Power Motorcycle | Co-Sponsor |
| Agha Steel Industries | Associate Sponsor |