Karachi, 7 May 2023: Babar Azam had a forgettable 100th ODI when New Zealand defeated Pakistan by 47 runs in the fifth and final ODI to push the series hosts from first to third on the ICC ODI Team Rankings.
Babar lasted five balls for one that resulted in the holiday crowd leaving the National Bank Stadium before Iftikhar Ahmed's career-best 94 not out and Salman Ali Agha's third career half-century helped Pakistan to recover from 66 for four to 252 in 46.1 overs in reply to New Zealand's 299 all-out in 49.3 overs.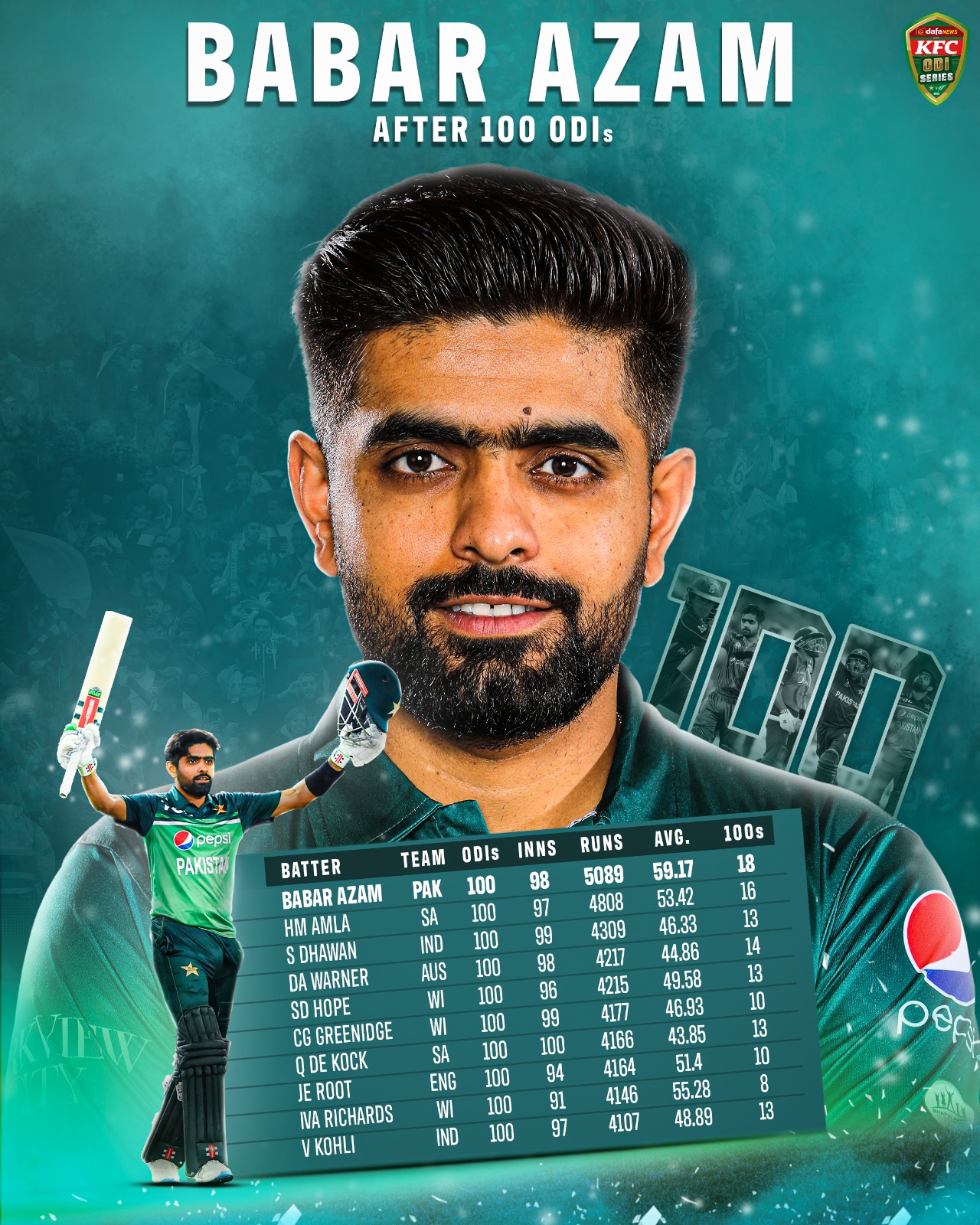 Although Pakistan won the series comprehensively by a 4-1 margin, Sunday's defeat meant their reign at the top of the ICC ODI Team Rankings lasted just 48 hours. Pakistan had needed to win on Sunday to consolidate their position at the top of the table before an annual update of the ICC ODI Team Rankings was carried out post Ireland versus Bangladesh series.
After Pakistan had lost Shan Masood (7), Babar Azam (1), Mohamamd Rizwan (9) and Fakhar Zaman (33), Iftikhar Ahmed and Salman Ali Agha answered the calls with gutsy and fighting knocks. The two batters added 97 runs for the fifth wicket in 95 balls before Salman became Henry Shipley's third victim at the score of 163.
Salman's run-a-ball 57 ball innings was laced with six fours and a six. It was his second successive half-century.
Following Salman's departure, Iftikhar continued to keep Pakistan's slim chances in the match alive with a 26-ball 30-run sixth wicket partnership with Shadab Khan (14) and 18-ball 23-run seventh wicket partnership with Usama Mir (20), but he was always fighting a losing battle as the required run-rate headed in the wrong direction.
Iftikhar returned unbeaten after last-man Haris Rauf was declared run-out despite television replays suggesting Henry may have dislodged the bails with his hand instead of the ball.
Iftikhar slapped eight fours and two sixes in a 72-ball 94, but more importantly demonstrated that he, along with Salman, had the capacity, capability and ability to solve Pakistan's middle-order batting woes and concerns. Iftikhar not only hit boundaries with powerful shots, but intelligently kept the scoreboard moving by nudging the ball in gaps.
Besides Shipley (three for 34), left-arm spinner Rachin Ravindra also bowled well and finished with three for 65.
Earlier, half-centuries by Will Young and Tom Latham with small middle-order contributions lifted New Zealand to 299 in 49.3 overs after they had elected to bat first.
Young scored a 91-ball 87 with eight fours and two sixes and Latham struck five fours in a 58-ball 59, but the most punishing innings in the middle once again came from Mark Chapman who belted five fours and two sixes in a 33-ball 43.
Young and Latham put on run-a-ball 74-run third wicket partnership, while Latham and Chapman added 56 runs for the fourth wicket in 47 balls.
For Pakistan, Shaheen Shah Afridi picked up three wickets for 46 runs, while wrist-spin duo of Usama Mir and Shadab Khan took two wickets apiece.
Scores in brief
New Zealand beat Pakistan by 47 runs, Pakistan win series 4-1
New Zealand 299 all-out, 49.3 overs (Will Young 87, Tom Latham 59, Mark Chapman 43, Rachin Ravindra 28, Cole McConchie 26, Henry Nicholls 23; Shaheen Shah Afrid 3-46, Usama Mir 2-53, Shadab Khan 2-67)
Pakistan 252 all-out 46.1 overs (Iftikhar Ahmed 94 not out, Salman Ali Agha 57, Fakhar Zaman 33, Usama Mir 20, Shadab Khan 14; Henry Shipley 3-34, Rachin Ravindra 3-65)
Player of the match – Henry Shipley (New Zealand)
Player of the series - Fakhar Zaman (Pakistan)