Scorecards and statistics are available

here
Karachi, 21 May 2023: The T20 phase of the Pakistan Cup Women's Cricket Tournament 2022-23 comprised four teams so the probables for the ACC Women's Emerging Asia Cup in Hong Kong next month could get maximum match practice ahead of the all-important event.
These emerging women cricketers, captained by Pakistan seamer Fatima Sana, formed Strikers and made the most of the opportunity by winning all three matches, defeating Challengers (42 runs), Blasters (nine wickets) and Dynamites (three runs) on Friday, Saturday and Sunday in Karachi.
Shawaal Zulfiqar scored 74 off 52 balls (12 fours) and all-rounder Natalia Pervaiz hit 39 off 29 to lift Strikers to 171 for six before Anoosha Nasir's four for 19 and Tuba Hasan's two for 20 limited Sadia Iqbal-led Challengers to 129 at the Oval Academy Ground.
They inflicted a thumping defeat on Blasters, skippered by Muneeba Ali, the next day, chasing 119 with as many as nine wickets and six overs spare with Eyman Fatima smashing 72 not out off 49 (nine fours and three sxies) and Sadaf Shamas hitting 40 not out off 26 (six fours and a six) in a 104-run stand.
This young bunch displayed great nerves today when they secured a three-run win in a low-score affair at the State Bank Ground by limiting Sidra Amin's Dynamites to 89 after posting 92 for eight. Umm-e-Hani took three wickets for 18 and Syeda Aroob Shah, Pakistan's captain in the inaugural ICC Women's U19 T20 World Cup earlier in the year, took two wickets for 17.
Dynamites were the second best side with two wins – against Blasters, who remained win-less, and Challengers, whose only win came today when they beat Blasters by a staggering 96 runs, thanks to Saima Malik's five for nine.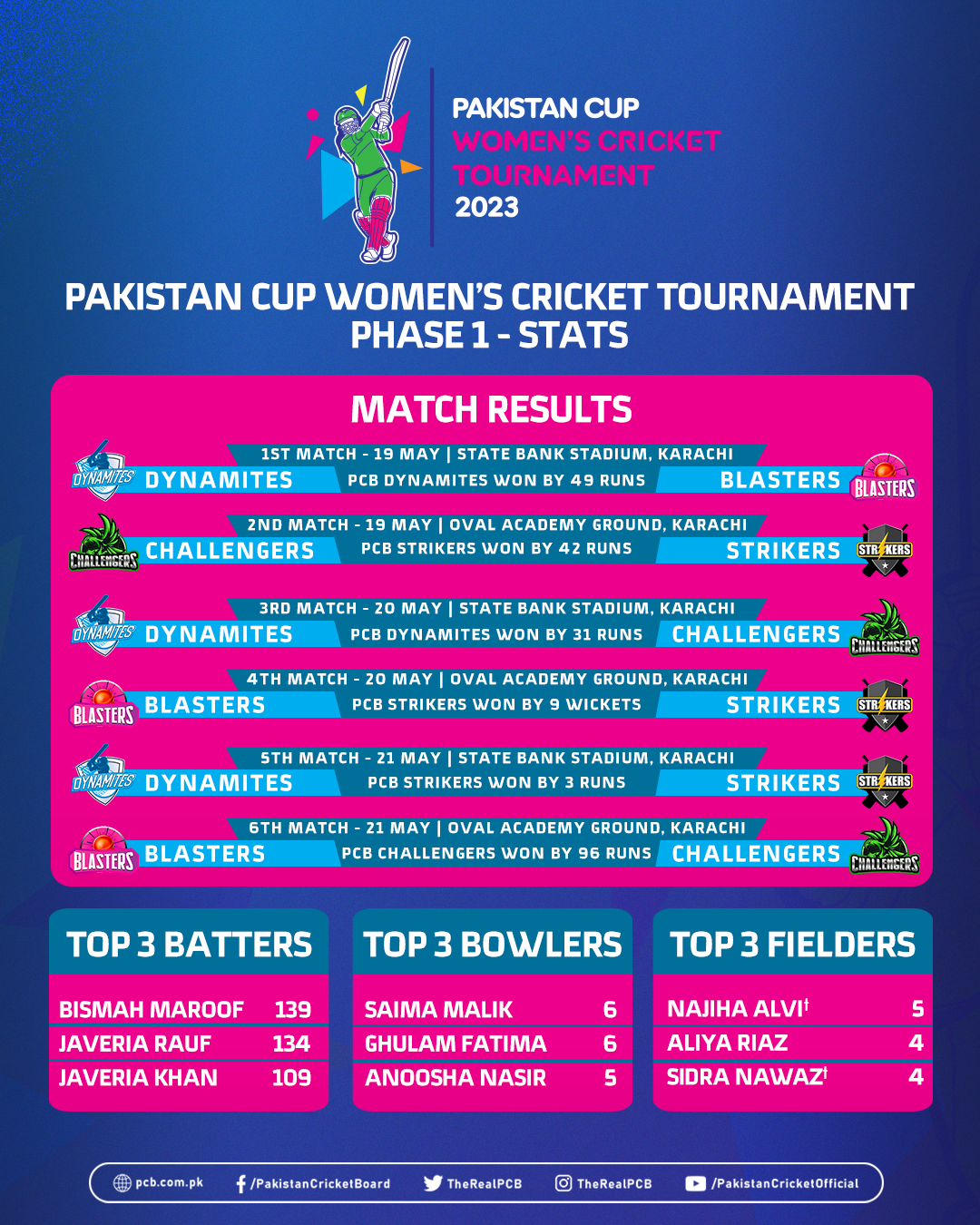 Former Pakistan captain and Dynamites batter Bismah Maroof accumulated the most runs – 139 at an average of 139 and a strike rate of 130. She stroked back-to-back half-centuries. The two Javerias – Rauf and Khan – made 134 and 109. Rauf averaged 44.67 and scored at 129. Khan averaged 36.33 and her strike rate was 110. The two Challengers teammates made a half-century each.
Saima recorded the only five-wicket haul and the best figures with her five for nine today. She finished with six wickets, the joint most with Dynamites leg-spinner Ghulam Fatima. Saima's each wicket cost nine runs, while Fatima averaged 10.33. Strikers' Anoosah Nasir averaged 5.40 as she took five wickets in two matches.
The one-day phase of the Pakistan Cup Women's Cricket Tournament commences Tuesday with three teams – Challengers, Blasters and Dynamites – playing each other twice. The final will be played on 4 June and it will be live-streamed through Pakistan Cricket Board's official YouTube channel. All matches will be staged at State Bank Ground.